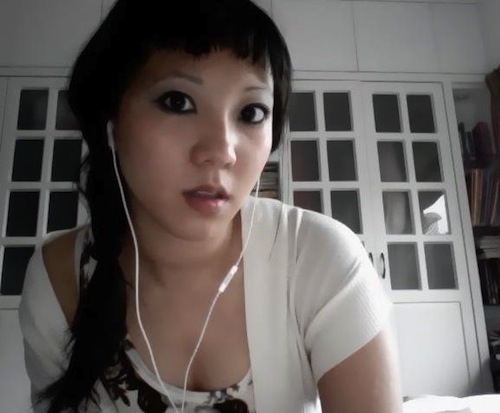 Angela Veronica Wong took part in this interview over Coldfront.
Here Wong talks about serial poem:
SK: You have also recently had your chapbook Dear Johnny, In Your Last Letter published by Poetry Society of America. Looking at this chapbook, your full length, and having read some of your new "Elsa" poems, it seems like you are drawn to serial poems. Can you talk a bit about this?

AVW: It's either that I have no self-control, and can't stop myself at just one poem, or I have major control issues, and need to keep explaining, and keep explaining. Serial poems allow me to burrow into my dark, dark obsessions, to live in them, to consume and be consumed by them, to let the obsession manifest into an engorged monster and explode to the point of vomiting. Gross.

But each of the projects you mentioned, I think I was using the serial poem in a different way, though in all three to address a progression of emotion and all three being some sort of obsessive meditation on love, loving, loss, absence, and heartbreak. For the Dear Johnny poems, I was writing love letters, and I was interested in the form of the love letter, and the presentation and action of loving through the love letter, how to communicate the self through a letter, and how to learn about someone through correspondence. I think I also used the multiple poems as a way to create setting – the Dear Johnny poems are written toward a World War II soldier, so there is language and imagery that hopefully can evoke that setting.

The nature of the serial poems in hotel fire depend on the series (sidenote explanation: the collection consists of six parts, four of which are a series of poems, the opening and ending sections consisting only of one single piece), but I think fundamentally they are all about being a human being who is trying to connect with (an)other human being(s) and how beautiful and how scary that is, even if and when it is fracturing.

For the new Elsa poems, along with the emotionality and explicit rawness that is hopefully the present, driving force in the poems, I also want to use the serial nature of the poems to investigate narrative and character development, as well as the divide, or lack of a divide, between author, poetic persona, and character. Like the Dear Johnny poems, there is a historical inspiration to Elsa, so writing several poems allows for more "information" to be sprinkled throughout, and more "history" to support the poems.
Much more here!