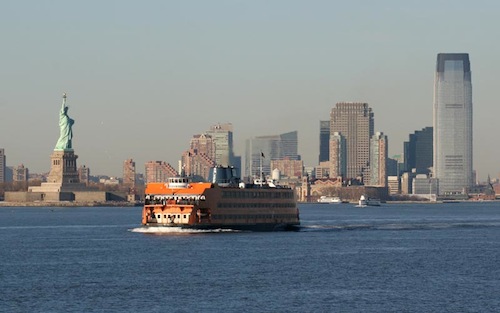 We reported on Matthea Harvey's audio walking tour of Staten Island recently. Now, Artlog offers this feature, including interviews with Harvey and her collaborator Justin Bennet.
A sample:
Artlog: How did you become involved with this project?

MH: [stillspotting curator] David van der Leer asked Justin Bennett to do a soundwalk and then Justin chose me to write the text. That started a six-month headlong dive into the world of Staten Island and the lives of the Meuccis, which I couldn't be more grateful for.

Artlog: You published a poem called The Straightforward Mermaid in 2010. Now, in this piece, you imagine that Esterre Meucci is a mermaid. What makes the mermaid so artistically appealing to you?

MH: I'm interested in hybrids in general—centaurs, mermaids, etc. They all speak to the fact that we consider ourselves different from animals, yet we are fundamentally animals—animals with slightly more developed brains, but worse eyesight than the owl, worse noses than the basset hound…. Hybrids make explicit that line between body and brain. "The Straightforward Mermaid" became a feminist reclaiming of the mermaid—this mermaid is not interested in sailors or nail polish or fitting into traditional ideas of femininity. Esterre Meucci being a mermaid interested me because she has the traditional longing for another world that the original little mermaid had, but in her case she longs to hear the sounds of the human world. Meucci, of course, was always inventing things that had to do with sound—telephones, megaphones, marine telephones, etc. I really enjoyed writing a love story in which two people fall in love because of their shared love of another thing.

Artlog: What were the benefits and challenges of doing a collaborative piece?

MH: Justin was a delight to work with—a true collaborator. In the January cold, we walked around Staten Island together, both of us pointing out sights and sounds. As I wrote bits of the text, Justin would send back sound files. We both work in other mediums—so he also sent drawings and I sent pictures of the handkerchiefs I was sewing (as Esterre Meucci, who was primarily a seamstress). The collaboration was seamless really. However, I don't think I fully comprehended the amount of organizational work that goes into making a soundwalk—[stillspotting project associate] Sarah Malaika and David van der Leer had so many details to juggle—sites, training the amazing volunteers, signage, equipment, etc. That was new to me.

Artlog: Writing provides a static visual, as the reader can see only the words on the page as they read. What did it mean to have your words taken off the page — to be absorbed alongside changing visuals instead?

MH: It was thrilling to have your words read by multiple voices as well as illustrated and complicated by Justin's soundscapes. The walk itself introduces an exciting element of chance. The participant might be hearing about Esterre Meucci's twenty-five cats as a cat walks by, or a rainstorm can hit while they are hearing about Antonio Meucci's efforts to recreate a rainstorm inside the opera house. A number of my friends said it was like walking around inside a movie, and i like that description.
Full article, plus a chance to win tickets, here.