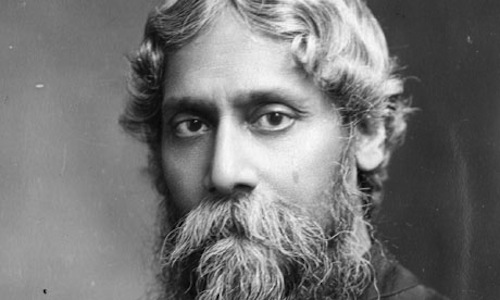 Poet Rabindranath Tagore's paintings are on exhibit at the National Visual Arts Gallery in Kuala Lumpur, which showcases 49 of his works.
From New Straits Times:
The paintings, most of which have a modernist touch, demonstrate that with perseverance, one can master just about anything. He held as many as nine exhibitions in Europe and the United States between May and December 1930.

The largest of the exhibited paintings at the gallery is 76.9cm x 56cm while the smallest is 16.7cm x 24cm. All images are either ink on paper or pastels, with one on silk.

In addition, there are also pictorial exhibits of the momentous events of his life.

Art critics have maintained that Tagore's works were not influenced by any one artist or any school.

No matter. These paintings display a flair for childlike spontaneity and creativity that brought Tagore close to the people's hearts. The paintings are a blend of the Orient as well "primitive" and modern influences which give his works a stamp of originality.

It's said that Tagore's earlier paintings were developed from doodles when he tried to translate crossed out words and discarded lines into visually exciting motifs.

However, whether it is a crow, dog, portrait of a man or woman or a female dancer, they have a grim feel, which evoke the difficult times India was going through during the fight for independence. The images are in deep and dark hues and with gaunt faces.
Make the jump to see a few paintings and read the entire article here.