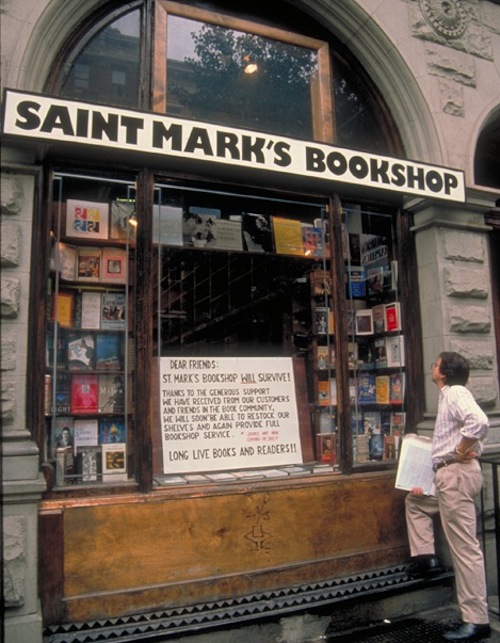 St. Mark's Bookshop was in the clear last we checked, but turns out they have to move, reports Jeremiah's Vanishing New York (perhaps you've heard). So they're having the biggest "cash mob" yet, this Saturday at 3:00. From the blog:
Co-owner Terry McCoy reached out for our help. He says, "We're in the midst of some serious summer doldrums and could use a little lift....a shot in the arm." Let's give them that lift as they work hard to find a new place and stay in the neighborhood. Says Terry, "A smaller space in the East Village with a much reduced rent would allow us to continue to be basically the kind of store we are and still survive."

To help get your asses in the shop, we've devised a little Cash Mob incentive. The first 20 people to spend $10 and say "Jeremiah sent me" will receive a $5 gift certificate toward their next visit to St. Mark's Bookshop.

The Details:
Date: Saturday, July 21
Time: 3:00 p.m.
Place: St. Mark's Bookshop, 31 3rd Avenue between 8th and 9th
Goal: Spend money on books!

Tell them "Jeremiah sent me" and if you're one of the first 20 people to spend $10, you get a $5 gift certificate for your next visit.

After the Mob: Head over to Bar 82 at 136 2nd Ave., between 8th and 9th, to drink and celebrate with your fellow cash-mobbers.

Remember: In a time of soul-sucking stupidity, when the city has become overrun with zombies and chainstore-loving suburbanites, this bookstore is one of the (last?) reasons we have to love the East Village and New York City. Let's help them move and keep them nearby. Show up, spend money, and spread the word!