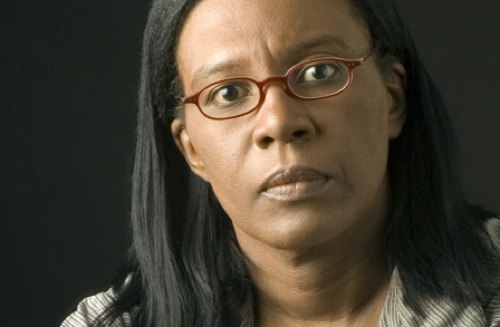 Remember when poet Ali Liebegott went on a road trip for The Believer and interviewed Maggie Nelson? That was just her first stop. Now she's gone on to talk with poet Claudia Rankine, and their interview has just gone up at The Believer Logger. We love this bit from their conversation, held recently in Claremont, California:
BLVR: I read that Patti Smith book Just Kids that she had written about being with Robert Mapplethorpe and she was describing New York in the 70's and how everyone was living in the Chelsea Hotel—I love books where people are hungry. People are so hungry in that book, where they got the 50 cents and got to have the chocolate milk. I love descriptions of that kind of early-on life. One of the things she told young writers was don't go to New York. No one can go to New York now. Who could go to New York now as a young writer and survive? And I think you can't go to San Francisco either now, really. I lived there twenty years ago, when you could. You could work at a coffee shop, you could survive. So I'm wondering, where are these places that people can be?

CR: Austin. I heard there's a good poetry scene in Portland.

BLVR: Can't live in Portland. The rain.

CR: Not that I'm going.

BLVR: Your book is filled with quotes of people, including an Emily Dickinson quote that I actually have tattooed on my arm.

CR: That's a good likeness of her. Makes her look a little taller.

BLVR: Her lips aren't that pursed but I could go on and on about it. When you think about your go-tos, your models, your "I want to be them" who are they?

CR: I think Emily Dickinson, but also César Vallejo. He's a Peruvian Poet and he's so beautiful. You have to know him. There are only two books. One of them is Trilce and it's a book-length poem. The other is The Posthumous and it's just a collection of everything before he died in Paris of consumption or something, and what's beautiful about that book is you'll kind of be reading along and something will happen and you'll say, "Oh my God, this is so amazing. I love him." And then there are people like Anne Carson who has given permission to this generation in terms of the multiplicities of approaches that she has. She is invaluable for the license she allows. I like Bob Hass—even though sometimes I joke and say, "Oh, his white male angst." But what he does that no one does quite as well is the way in which he travels the mind. It's not just his subject matter, it's the way in which he can craft a journey through thought—which is what I do. So for me, when I first read him, I felt so recognized that I went to Berkeley to study. I went there, knocked on his door, asked him if I could take his class. Kind of crazy behavior.

BLVR: How old were you when you did this?

CR: Before grad school, so twenty-five? Twenty-six?

BLVR: Where were you living before Berkeley?

CR: New York.

BLVR: I like to know what was the pilgrimage.

CR: I was born in Jamaica. When I was seven I came to New York. Grew up in the Bronx. Went to Blessed Sacrament where Sonya Sotomayor went, and then I went to Williams College and then I went to the Caribbean, actually. I taught lower school in Grenada right after the invasion, and then I came back to the United States and had that moment of, What are you going to do now? Now you have to start your life. I thought I would go to law school so I started working at a law firm in DC and did that for two years and decided no, this isn't what I want. and I went back to NY and that's when I decided like, okay, I'm going to get an MFA in Poetry. Like right then at that very moment. And the boyfriend I had—he said we should get married you should come to Minnesota, and I just had applied for the MFA program at Columbia and I was kind of like, well, let's get married and you can go do that and I can do this. And he was kind of like, people don't get married and then go live apart. (Laughs) To me it made perfect sense, like why not?
Makes sense to us. But hey. Read it all here.