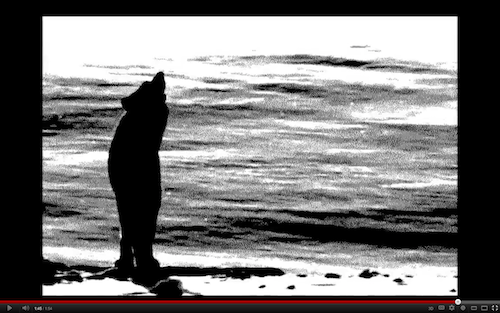 HTML Giant has featured poet Ben Pease's latest project on their homepage, an audio-visual poetry experience based on his epic work, "Chateau Wichman: Blockbuster in Verse." This two-minute video is merely an overture, but we're already treated to swingsets, snow-capped trees, and girls holding grapefruits over their breasts. Here, Pease talks about his decision to experiment with video:
I realized the images could be worked in with the poetry in a way that added to the entire experience. Just as no one in Chateau Wichman knows exactly who they are, it's hard to say what kind of figures these dots are supposed to make up, but if you look or think about either for long enough, something definite comes to mind.

More recently, I've taken advantage of projectors and PA systems at readings and had a little video play before or during my time on stage. Inspired by my girlfriend Bianca Stone's thought-provoking interplay of image and text in her poetry comics, I had a lot of fun putting the videos together (and recording the poems brought me back to my college radio days). Finally, I decided to try to combine the two disciplines together for the entire Wichman poem.
Read the entire post here.