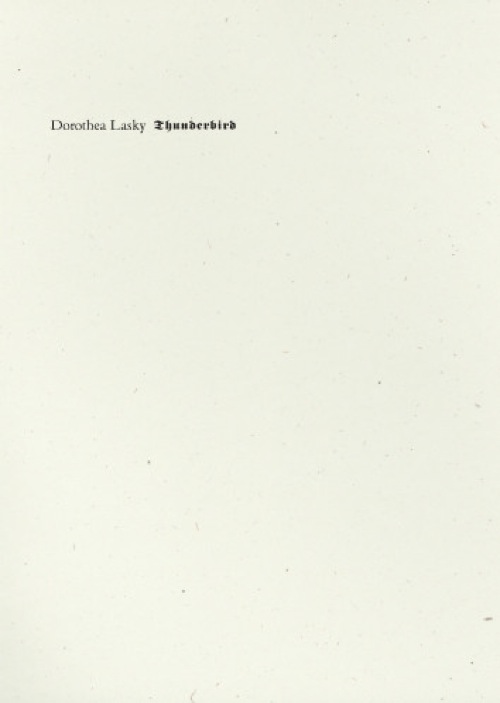 Publisher's Weekly has reviewed Dorothea Lasky's newest book, Thunderbird (Wave 2012); and guess what, they're fans (P.S. this is available now, despite its Oct release date!).
Even after titling her last book Black Life, Lasky's latest aims to go darker--more death-driven--with poems that can be as commanding and loud as they can understated and vulnerable. "I like weird ass hippies," she writes in a poem of the same name, "I like the lamb's blood you throw on my face." Elsewhere Lasky pulls even fewer punches: "I want to be dead." What makes her voice so inviting, easy to love, and ultimately disarming is how ambivalent Lasky can be about the emotion she braids into her lines. "What I say are feelings," she writes, "Are also not feelings." And the same voice that tells us "it's true, I love you guys and gals" also issues this fired-up correction to both poets and idol worshippers alike: "God is wild, and not human/ And when people make God human/ He stares at you through the eyes of a bear/ And beats his terrible bearded chest." It's perhaps unavoidable that Lasky's willful innocence will lead her to lines that belittle her complexity, as when she declares that "The world doesn't care if you are sad" or asks "Why are people so cruel?" But all of this is worth Lasky's thoughts on where poets should take their art: "Poets should go back to saying crazy shit."
You can watch Lasky read her poem "I Like Weird Ass Hippies" in the video below--originally posted at Huffington Post.
http://vimeo.com/46548516