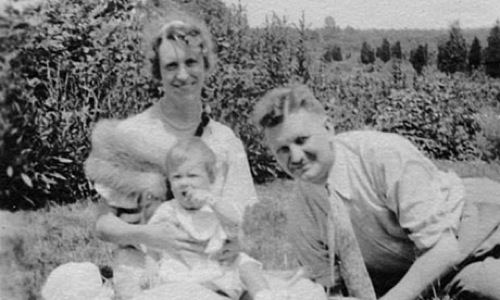 Bookforum's Paper Trail alerts us to this news:
Newly released FBI files on Sylvia Plath's father, Otto, corroborate Plath's pro-Nazi characterization of him in her 1958 poem, "Daddy" ("Panzer-man, panzer-man, O You— / Not God but a swastika") by describing him as "pro-German" with a "morbid disposition."
More details from The Guardian:
Although Otto died in 1940 when his daughter was eight, he exerted a lifelong hold on her, inspiring her bitter tirade against him in her famous 1962 poem Daddy.

But relatively little was known about him, and this new material will offer invaluable insight into his daughter.

Apart from the investigators' report on Otto's character, the files reveal that he was detained over suspected pro-German allegiance.

He also encountered discrimination at the University of California, and was passed over for a scientific post due to his birth in East Prussia, though he moved to the US aged 15. The files also reveal that he lost a salesman job for not buying Liberty Bonds to aid the war effort, and it is implied that he had a less than wholehearted attitude towards the first world war and America.

The FBI concluded that he was "a man who makes no friends, and with whom no one is really well acquainted". But there was no evidence of disloyalty.

In the light of the second world war, Plath had mixed emotions about her father, writing in her journal in 1958: "He … heiled Hitler in the privacy of his home." She wrote in her vicious poem, Daddy: "I have always been scared of you,/ With your Luftwaffe, your gobbledygoo./ And your neat mustache/ And your Aryan eye, bright blue./ Panzer-man, panzer-man, O You-- / Not God but a swastika."

In that poem, she also vented anger at poet Ted Hughes, the husband who abandoned her and blamed her recurrent depression on her Oedipal obsession with her father.

Theirs was one of literature's great, doomed love stories. Plath took her own life in 1963, having left food for her sleeping children. Some Plath fans blamed Hughes for her suicide.

Months before he died in 1998, Hughes, a poet laureate, broke his silence on their marriage with his collection of poems, Birthday Letters.

The FBI files, headed "Pro-German", recorded that, as an "alien enemy", Otto lost teaching positions, having graduated from Northwestern College and the University of Washington, Seattle. Later however, he did obtain positions.

In one passage, they noted: "He has stated … that he will return to Germany after the War, and seems to have assumed a rather pro-German attitude towards [it] on account of losing his positions." But later they commented he had "a rather indifferent attitude" and mentioned a denial of saying he would go back to Germany after the war.

He also told investigators that his parents came to the US "because of the better conditions" but defended his homeland, saying: "Some things are rotten in Germany, but not all; that the German people and their character is not altogether rotten."

FBI officers reported "his brooding over the bad luck he is having making a living" due to his nationality and that he felt persecuted.

The FBI files will be revealed in October at an international Plath symposium at Indiana university, Bloomington, a leading research centre boasting an important Plath archive.