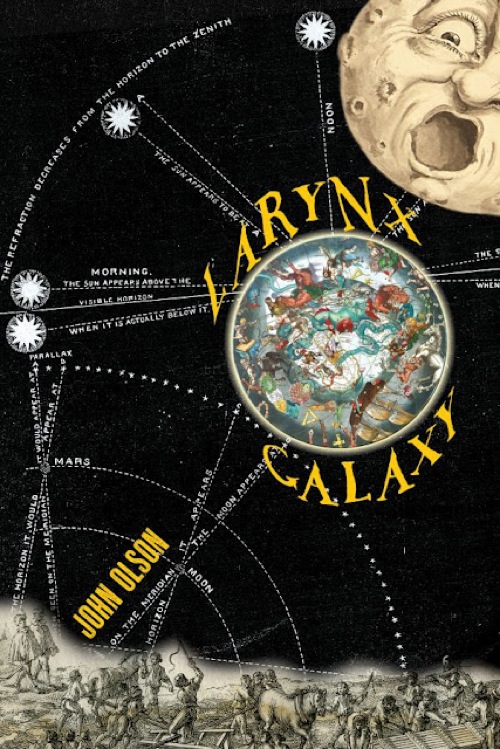 Steven Fama has posted at his blog, the glade of theoric ornithic hermetica, a thorough review of John Olson's latest book, Larynx Galaxy (Black Widow Press 2012). It's Olson's first collection of poetry in four years, and first all-new collection in six. For starters, what a cover, as you can see! Apparently the book is H-U-G-E. Now that we've drawn the outline, here's a bit of the guts:
The characteristics of a "JohnOlsonian" prose poem are in some ways hard to describe. Michael McClure's suggestion (also in a back cover blurb) that Olson's poems are marked by "surging perceptions" that "float in inspiration" suggests something of the character and energy of the writing.

So too do the paradoxes in Lewis Warsh's description (also in a blurb) of Olson's writing as "hallucinatory" and "clearheaded," texts that "verg[e] on the edge of infinity, yet [are] forever at home in the world." Also on point is the assessment of Christopher Frizzelle, long-time critic for The Stranger (the "alternative" paper in Olson's hometown of Seattle) – that Olson's poems are "wild and mercurial."

Olson himself perhaps best describes the what and why of his writing (and click through here for a post, from three years ago, about that). Many poems in Larynx Galaxy include declarations or hints about what's going on with the words as words.

In "The Utility Of Futility," for example, Olson proclaims, "I have a Jackson Pollock belt buckle and a cricket cantata hairdo." That statement, I suggest, neatly captures both the abstract practicality and musical aliveness of his writing, and its good ol' surreal fun as well!

"I can tie water in knots and waltz the skeleton of a cloud," Olson writes in the same poem, suggesting and at the same time showing his imaginative reach and confidence. He adds, "I can lean the ocean against a predicate in the scrotum of a moose and nail a drop of perfume to a blister of light." I, for one, do not doubt that Olson could do all those things, and more.

Olson more directly discusses his approach to words in "Brought To A Boil: An Essay On Experimental Poetry," a four page work from near the start of the book. In the following excerpt from that piece, Olson begins with a kind of prologue of demonstrative poetry and then hammers on several key points:

Experimentation in words leads to the mustard of cacophony, unbridled granite, ecstasies in anvils, legends and dragons boiling out of fugitive metaphors. Mallarmé doing wheelies on a Harley-Davidson. Six nude somersaults and a buffalo in a tulip refinery. You cannot quite predict what words are going to do. That is the whole idea. This is exactly the kind of situation you want to be in: entering into a play with the language in which control is excused and revolutions begin. Revolution in both senses of the word: orbital motion about a point and a sudden or momentous change in a situation.
Read the full review here!