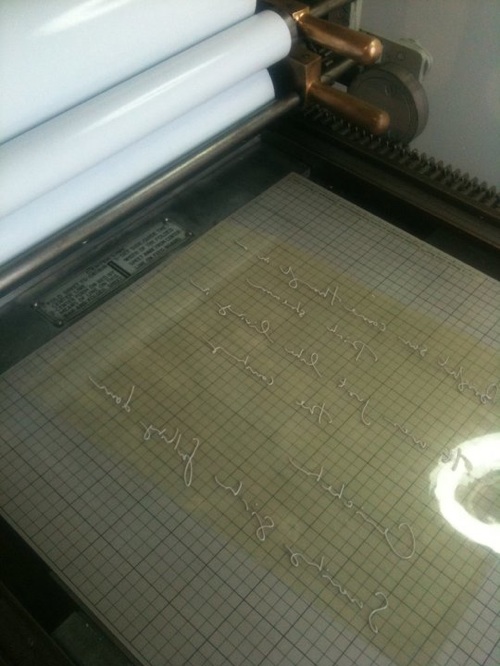 Flying Object has a new initiative! It requires you to take some initiative. Initiative is taking us concentration to type out (too much coffee, too little typing of initiative). All right, future broadsiders, here's the g(r)ist for the letterpressmill:
It's like this — we're going to letterpress one broadside a month in a super-limited edition of 50 using a poem or very short story chosen from your submissions. It's pretty simple. You submit a poem or story (Just one! We want you to send us your best.) that's no more than one page long and we'll read that poem. We'll begin choosing poems to print as soon as we begin receiving submissions and keep the reading period open until we have our first twelve poems or stories selected and twelve months filled. Expect a response as quickly as we can get back to you (it won't be all that long). Include a short bio (2-3 sentences) as part of your submission. The file you upload should be in .rtf, .doc, or .txt format.

ANNNNND the reward for having your poem or story chosen is 15(!) copies of the broadside. Hand-sent to the address of your choice. Or, better yet, hand delivered to you when you come visit.

Submit to the Flying Object Broadside Initiative

A few more things:

We'll do the design. All of it. But not to worry! We'll excitedly keep you updated during the process if your poem is chosen! Basically, only submit if you trust us. We're not in the habit of publishing anything that doesn't make us proud. Look through our website and our publishing imprint Factory Hollow Press' website if you feel like vetting our work.

You can be judge of what is appropriate (or legal) to send. We don't care if it is published or unpublished–just that it's your best work. Of course (and you already know this) we aren't responsible for any magazines or publishers upset that you sent us something they got to first.

Good luck and thanks! We're looking forward to seeing your work!