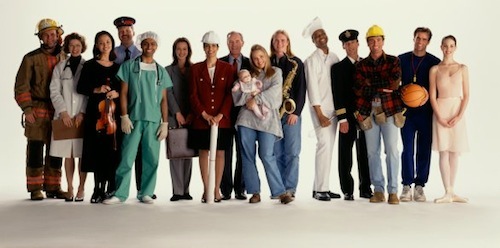 While many of us dream of becoming full-time writers, the fact is, several of the most successful poets in recent history have remained at their day jobs. Here are some examples from Publisher's Weekly.
Wallace Stevens
Day Job: Insurance Executive

In perhaps the most direct refusal to trade in a 9-to-5 for a laurel-resting "prestige" position you'll find on this list, Stevens turned down an offer from Harvard following his 1955 Pulitzer because he would've been forced to give up his vice-presidency position at the Hartford Accident and Indemnity Company. Stevens began his career in 1904 as a lawyer, but the bulk of his professional time (nearly 40 years) went to the Hartford, where he started in 1916. He published his first book of poems, Harmonium, in 1923, but it went largely unnoticed. The birth of his daughter Holly in 1924 was one of the main reasons Stevens took a long hiatus from writing poetry seriously, but he resumed in 1933, beginning the most productive phase of his writing career.

Tomas Transtromer
Day Job: Psychologist

The 2011 Nobel Prize winner has been balancing his writing with his work as a psychologist for over 50 years. Transtromer published his first collection, 17 Poems, in 1954 and graduated in 1956 from Stockholm University with a degree in psychology. Since then, he's split his time between writing and psychology, and he now works as an occupational psychologist for the Swedish government. Along the way, he's worked at the Institution for Psychometrics, as well as Roxtuna, a youth correctional facility–and he also went on to become Sweden's most famous poet.
Lewis Carroll and William Carlos Williams also made the list—read about them here.