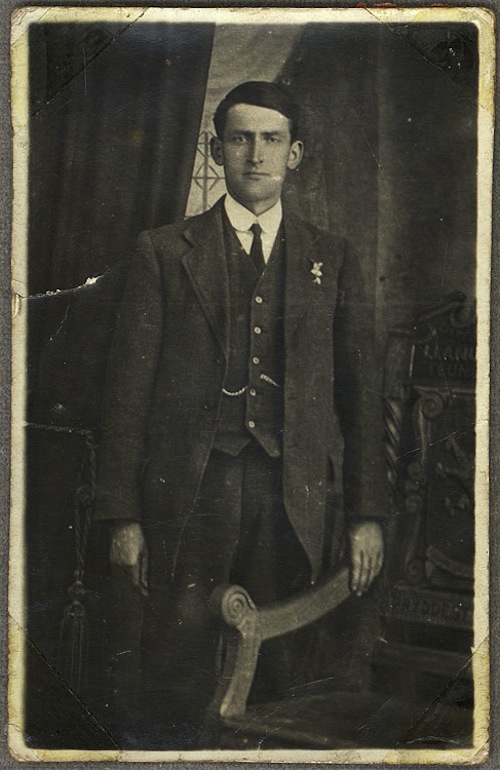 In 1917, after winning several local chairs, Ellis Humphrey Evans won the chair at the annual National Eisteddfod cultural festival in Wales. The judges were soon saddened to learn that Evans, who came to be known as Hedd Wyn, had died in the Great War. The solution, it seemed, was to cart the chair off to his family farm, where it remains to this day. Now, the home is being preserved, and The New York Times has the scoop:
Gerald Williams, the poet's nephew, has lived here since 1933, and for decades has greeted guests and related the stories of the poet's life and his early death. Not the least remarkable aspect of Yr Ysgwrn is that the cottage interiors remain as they were in 1917, including the kitchen, where Hedd Wyn wrote "The Hero" and many of his other poems on the table by the iron stove.

Mr. Williams is now in his eighties and continues to work the 68-hectare, or 168-acre, hill farm with grazing for 300 sheep and a small herd of cattle. Although extraordinarily vigorous in limb and lively of mind, Mr. Williams had begun to be concerned about the long-term future of Yr Ysgwrn as a monument to Hedd Wyn.

On Saint David's Day this year it was announced that the Snowdonia National Park, within whose boundaries Yr Ysgwrn lies, would purchase the cottage, restore it, keep it open for visitors and find a tenant to work the farm in the traditional fashion. Mr. Williams will remain on the farm in a small house below the cottage to guide visitors around Yr Ysgwrn.
...Welsh poetry has a history that goes back as far as the middle of the sixth century, and its meters and systems of alliteration, assonance and consonance take years to master and produce a richness of texture that is impossible fully to translate into other languages, said Mr. Williams, reflecting the opinion of many of his fellow Welsh speakers.

Hedd Wyn's father wrote light verse, and when his son was 11 he bought him a "Yr Ysgol Farddol" (The Bardic School), a rule book of complex meters that had been codified in the 14th century. The young Ellis had written his first "englyn," a short poem in strict meter, before he was 12.

In 1907, the poet won his first chair at the Bala Eisteddfod. In 1909, he acquired the bardic name of Hedd Wyn (Blessed Peace).

The poet's love of the landscape of the Prysor Valley, which is little changed from the way it was a century ago, is one of the central themes of his verse. One of the poems most familiar to Welsh schoolchildren is his haiku-like "Atgo" (Recollection): "Only a purple moon/On the edge of the bare mountain/And the sound of the River Prysor/Singing in the valley."
Learn more about Hedd Wyn and his poetry here.