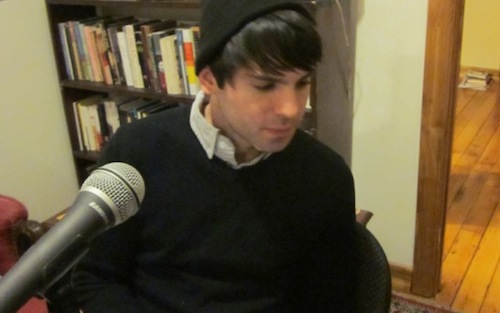 The next installment of Small Press Beat is up over at Tin House. This time, Drew Swenhaugen talks with Ben Fama about his various writing and publishing ventures.
Here's a sample where they talk about two new endeavors, Wonder and Mall Witch:
DS: The description on Kickstarter referred to Mall Witch as "existing between accessible and inaccessible modes of display and performance." What makes a mode of art inaccessible? Isn't the internet, in a way, allowing complete access? Or do I have it all wrong?

BF: The curator of the Mall Witch gallery show, Johnny Sagan, wrote this description, and I believe he's referring to the goal of his overall project. Simply described, he sets up pop-up gallery shows with specifically curated performances each night. After one of our early meetings about Mall Witch, Johnny sent the Wonder team a quote from Christian Schick that he thought exemplified his desire to create a space that entered "fangirl/fanboyism, the Male Gaze, the Object of Desire, the Model of Aspiration…the worship of the idealized Celebrity Brand." He wants to recreate these occurrences in the gallery and let people step into so called "tumblr-delic" spaces. Johnny also obsessively talks about creating digital media around physical cultural items (like designer t-shirts) which, by it's very immaterial as digital matter, is accessible to everyone. I could speculate more but again your question was about Johnny's gallery philosophy and I don't want to misrepresent him.

DS: So your next endeavor is Wonder. Can you tell us a little more about it? And Mall Witch. What's going on with all of that?

BF: Wonder publishes artists books, ephemera, pamphlets, and glossies. It is myself and Andrew Durbin. Our first artifact was released at Crush Party in May. The idea of Crush Party was people could anonymously email in the name of their crush. We would put it online and then hopefully the crush would attend the party and they would meet. The pamphlet we made for that was called This Will End In Tears.

Mall Witch is poetry manuscript wrapped up in an art book. It is also an internet playground in print. We had the good fortune to be solicited by Johnny Sagan (operating under his roving curator name Snowy Wilderness) for a gallery show that will also be called Mall Witch. It's happening around Halloween. When soliciting artists for the show, we've cited the internet, Tumblr, Tavi Gevinson, love, simulation, drag queens, Baudrillard, internet celebrity, Mykki Blanco, pixelation, Second Life, and also life itself.
Full conversation here.