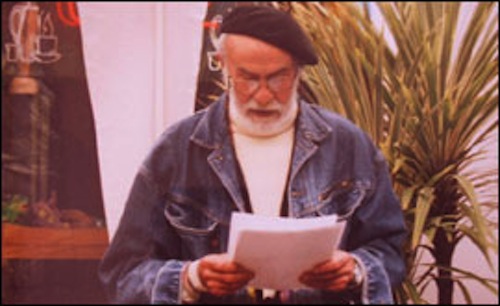 Dick McBride, veteran Beat poet, passed away on August 28th. His funeral, in Worcester, takes place today.
Here's a sample from a Worcester News article celebrating McBride's life:
Mr McBride was placed at the centre of the Beat universe when he became a book clerk in the now world-famous City Lights Bookstore, San Francisco.

In the 1960s, City Lights became such a tourist attraction that even Bob Dylan paid a visit.

It was the Beat ethos of travel and the need to offer City Lights Books in England that first brought Mr McBride to the UK in 1969.

He moved to Colwall in 1988 and made the Malvern Hills his base continuing to write and publish books. He also performed at local venues and the Big Chill festival at Eastnor, near Ledbury.
Then, later:
His son Sean described Mr McBride as a quiet egotist – someone who liked to be the centre of attention, but was never fond of anything too big or showy.

He said his father had many local friends who thought an awful lot of him and would appreciate the chance to raise a glass to the last of the Beats. Or, as Mr McBride preferred to refer to himself, the first of the mavericks.

Mr McBride is survived by his sons Sean and Brennan, grandson Antony, ex-wife Betty, step-children Rachael, Stephen and Ben and housemate and good friend Pat.

Anyone who would like to get in touch with Sean regarding his father can e-mail him at seanmcbride@blueyonder.co.uk.
Full article here.