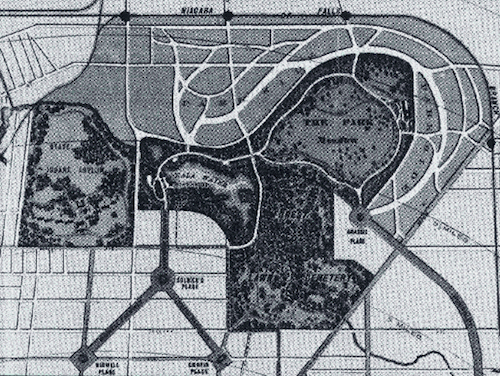 Check out this article from Buffalo News about a fantastic series of poetic events in conjunction with the Olmsted Parks.
From the article:
This fall, in conjunction with Buffalo State College's "Year of the City" initiative, the E.H. Butler Library's Rooftop Poetry Club will present "The Olmsted Parks Poetry Project: Exploring the Poetic Nature of Public Spaces," a series of seven readings, talks, and workshops celebrating the legacy of Olmsted's vision for this community, and exploring the uses of poetry in extending the idea of public art in the common, public, and natural spaces of park grounds forward into the 21st century.

The series begins this coming Friday, September 7th at 3 p.m. until 4:30 p.m. in Delaware Park's Rose Garden with a workshop featuring Lynda H. Schneekloth, professor emeritus at the UB School of Architecture and Planning and the author of five books including "Olmsted in Buffalo and Niagara" (2011), "Reconsidering Concrete Atlantis: Buffalo Grain Elevators" (editor, 2007), and "The Power Trail: History of Hydroelectricity at Niagara" (2006).

The event is free and open to the general public, but space is limited. As with all upcoming programs in the Olmsted Parks Poetry Project coordinated by Buffalo State College-based poet and writing teacher Irene Sipos and Rooftop Poetry Club founder Lisa Forrest--a poet and Senior Assistant Librarian at Butler Library--advance reservations are recommended. RSVP to Lisa Forrest at forresla@buffalostate.edu.
Follow this link for more detailed event descriptions.