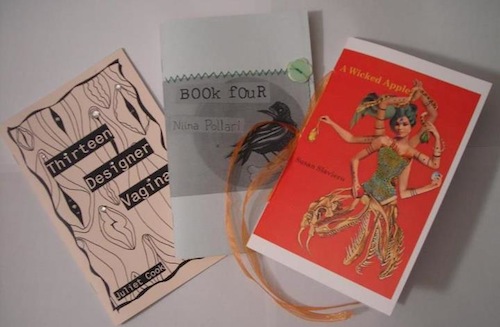 No, Hyacinth Girl Press is not Dancing Girl Press. But they do both publish chapbooks by women, and now they have both been interviewed at Laura Madeline Wiseman. Publisher Margaret Bashaar has some good things to say about the feminist slant and the distinctions:
Look, I love men. Some of my favorite people on this planet are men. I'm married to one. I am raising a tiny one. Two of my very best friends in all the universe are men. This doesn't mean that they are not disproportionately represented in the poetry world. I don't publish exclusively women by policy, but I will admit I am drawn to women's poetry more so than to men's poetry. Perhaps it is a sense of shared experience, perhaps it is a bias that I'm carrying with me, or perhaps it is that the female voice resonates with me more. I will admit that to date I have only accepted one chapbook by a male poet, and it's actually a collaborative chapbook with a female poet.

I guess when I decided to start Hyacinth Girl Press I saw a bit of what I liked being published here, a bit there, but there was no press that I felt truly captured the kind of poetry I loved and at the same time embraced the beauty of the chapbook as an art object in the way I am striving to with Hyacinth Girl Press. I deeply respect Kristy Bowen and her work with Dancing Girl Press. I own any number of the titles she has published and I absolutely love the work that she does. At the same time I feel like she and I, while we do have some author cross-over, have different tastes and different styles, both as editors and as artists/book-makers.
She also talks practicalities:
Since you started HGP, has there been anything new in the publishing industry that has been destructive to the art of chapbook presses? Helpful to the art to chapbook presses?

I feel like what I do is so far outside of big publishing that it really is not terribly effected by larger companies. Amazon and all the issues therein don't affect me. Ebooks aren't of concern to me right now. Being tiny can be wonderful.

I do think, though, that more and more people are looking to smaller presses as potential publishers for their work because of the problems they witness in big publishing. So it's possible I've gotten more submissions and/or purchases because of what is perceived by some as the beginning of the end for large company publishing. Now, I have a good friend who works for one of the big five and could talk about that idea in a lot more detail and more accurately, so I'm not going to run my mouth and ultimately end up sticking my foot in.

Small presses tend to have small budgets. How do you manage HGP's fiscal income each year? Do you dream that one day you'll be able to give up your day job and do HGP fulltime?

I put my own money into HGP to start. Now the chapbooks pretty much cover themselves. I don't think I could ever make a living wage off of HGP, but that doesn't really bother me. At the size I'm at right now, I'm able to do the editing and reading and promoting on my own with huge help from my layout and design editor, Sarah Reck. I like it that way. If the press ever starts to become too big for me to handle with help from Sarah, I'll probably scale back rather than add staff.
And fun stuff:
What current projects are you working on?

I'm in the editing phase of a chapbook based on The Ladder of Divine Ascent that I co-wrote with Lauren Eggert-Crowe. Lauren and I "met" because she submitted her chapbook, The Exhibit to HGP which I will be publishing later this year. We didn't meet in person, though, until well after we had drafted our chapbook. I'm also working on what will probably end up being a chapbook-length collection with Kelly Boyker about a character we developed together. As for writing all on my own, I'm working on expanding the Midway poems and slowly slowly on a series of poems on saints from multiple traditions. I'm also working on getting 6 more chapbooks out into the world in the next 6 months and picking out the final line-up for HGP's third year.

Number of chapbooks you own: Over 100

Number of chapbooks you've read: Over 125 – I'll admit that I don't tend to read very many electronic chapbooks (I'm trying to get over this bias – I swear!), but I DO try to purchase ever single chapbook I'm interested in reading, which is why I own over 100 chapbooks.

Number of chapbooks you've published: 7 – though it might be 8 by the time this interview is posted.

Ways you promote other poets: I run readings and bring my poets into town for those, I try to table at the AWP conference whenever I can afford to, I talk about them and link to them on the internet whenever I get the chance, and, you know, I publish their chapbooks.

Where you spend your poetry earnings: More chapbooks!
Read it all here.