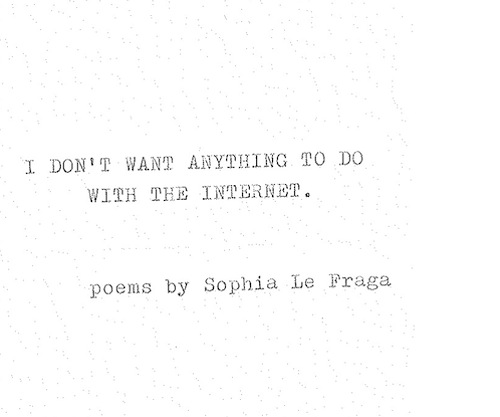 ...is the title of Sophia Le Fraga's new chapbook, and Melissa Broder provides a fab review of said book over at HTMLGiant. She begins her review with a description/warning which we love: "If you accidentally drop Sophia Le Fraga's I DON'T WANT ANYTHING TO DO WITH THE INTERNET, the book is fucked. This text is unbound, typewritten, looseleaf and there are no page numbers, so one misshap and the whole thing is irrevocably scrambled." Broder goes on to write:
And what about the god of the internet, the @Lord? Is there one? "do me a favor, / professional / consoler: / get outta my sky. / save yourself on a computer / and zoom in on a stranger," writes Le Fraga. This text is tense, at once resisting and embracing the fleetingness of pop culture and the meme. The speaker is "sick with / sincerity" yet "mass texts" are rendered "a / worse feeling / than hearing / about suicide." Likewise, "time is a waste of #Poetry" but "RunningOutOfXanax" and "#y'all" and "#Instagram" are immortalized on the printed page. If an electronic god exists, it exists everywhere—irl too. Any attempts to separate the lexicon of the internet from poetry, are futile. The internet is omniscient, a time traveler and in you.
And though Broder highlights Le Fraga's deft deployments of internet-speak, she notes, "there is also a pervading romanticism in this book—both thematically and structurally. Direct assonance and abba rhyme schemes emerge in various poems, embedded with hashtags, @'s and FourSquare. Le Fraga has a wide command of various forms, but R. Kelly and Facebook often meet structured couplets and tercets."
Head over to read the rest, including some fantastic quotes/samples from the #poems!
And in case you missed it this summer, Lambda Literary posted this Le Fraga poem.