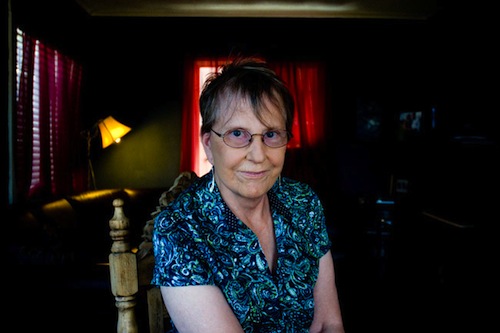 Rae Armantrout wrote this essay for Newsweek about her home town of San Diego, which she isn't all that fond of.
She writes:
I might even be able to give San Diego a kind of backhanded compliment by calling its lack of charisma "mysterious." Let's just say it's easy to "keep it real" here. For example, I've been hearing that there's a lively indie-music scene in San Diego for some time. I heard the same rumor back in the '90s. San Diego was the next Seattle, they said. Nothing ever came of it; that is, it didn't "blow up big." But then, if it had, it wouldn't have been "indie," would it? Maybe I shouldn't say San Diego has an inferiority complex; maybe I should say it refuses to be grandiose. When I moved to the San Francisco Bay Area, I found out that I have a self-deprecating sense of humor. At least I had a sense of humor. I loved it there, though. It was the perfect antidote to my suburban childhood. I grew up in a San Diego subdivision called Allied Gardens, built on the Levittown model for returning World War II vets. It's fair to say that I was bored out of my mind. When I was 18 or 19, before I transferred to the University of California at Berkeley, my friends and I would go downtown to stare shyly at the sailors, the tattoo parlors, the whores and trannies. They call that slumming, I know. But we were just looking for color, movement.

When I was in my 20s, my husband and I lived in San Francisco. It was the perfect place to be a young poet, or perhaps I should say, to become a poet. It was a poet-friendly environment (and there aren't many of those). There were bookstores everywhere (those were the days) and reading series in every bookstore, bar, and café. Half the people I knew edited small magazines. In San Francisco it was (and is) easy to believe that what you were doing was serious, important, real; though, if you were from San Diego, like me, there was also a small voice in your head warning that "the baseless fabric of this vision" would sooner or later "melt into air." Perhaps living in San Diego prepares you to become a Buddhist.
There's more, and you can read it here. Matthew T. Hall wrote this response for U-T San Diego.
He writes:
Maybe San Diego isn't as sophisticated as your poetry, but a city without charisma? C'mon! You don't have to be a booster, but you shouldn't be a buzzkill. Sugar, Rae. You live here! Do you leave your house?

That was my first reaction when a local writer shared Armantrout's backhanded compliments about San Diego on Twitter the other day. My second came after a 45-minute chat with Armantrout, who is not on Twitter and didn't want to know what people were saying about her 800-word piece.

Since you're still reading, I'll assume you don't share her reluctance.

Cameron Hughes wrote: "I am going to perform Harakiri for liking my city with its beautiful beaches, stuff to do and see, and nice people."

Tom Mitchell chimed in: "As a transplant, I understand what she's saying. I disagree on it being a blank city, however, just a city in progress."

Susan Myrland's take? "If there's any $ left in the lily pond repair fund after they fix it, that should go toward moving expenses for Rae Armantrout."

Thinking maybe it's a poet thing, I emailed Marilyn Chin, an award-winning poet from Portland, Ore., who teaches at San Diego State University.

"I live in San Diego for about six months a year, teach hard for those six months, then come January, I can't wait to escape and live and write elsewhere," she wrote. "I am happiest in perpetual motion. I love the diversity of San Diego — I have my fave places to get everything from bimbimbap to baba ghanoush to barbecued fish tacos — but what can I say, I am not totally happy here. I am always flying away. I am happiest in the air."
And more, including snippets of a conversation Hall had with Armantrout:
She didn't apologize, but she did acknowledge that aspiring teenage scientists might dream of being in San Diego. Surfers, too.

"Don't make it sound like I hate San Diego, because I don't hate San Diego," she said. "It's not like there's all this venomous hatred that I was holding back. I know people who hate San Diego, but they've left."

By way of explanation, she said charismatic people are irritating, too. She said her feelings about the city have evolved since childhood. She said they're complicated, like her piece.

And she said they have been shored up by people's reaction to it.

"This very sensitivity that apparently is showing up on Twitter is kind of a symptom of that inferiority complex," she said. In Chicago, "people wouldn't care." In New York, "they'd go, 'Look at you, you're stupid.' "

San Diego does come up short in comparison to our nation's actual finest cities. We're not New York, Chicago or San Francisco. Never will be. Our city still offers plenty: outdoor activity, microbrews, art, science, border culture, fish tacos. I think Armantrout's piece missed the mark. She doesn't.

"I'm happy with the piece," she said. "I might regret publishing it. I might regret having done it at all, but I think if I was going to do it at all, that's the way I had to do it.

"I don't think my trying to turn into some kind of travel writer or some kind of booster for the city would have worked. It just wouldn't have been an interesting piece of writing. Nobody would have been talking about it at all. And I really don't think it was a put-down either. What I was going for is that it would have some complexity and some nuance."
We hope that among all this heated debate we can all agree to stay classy!