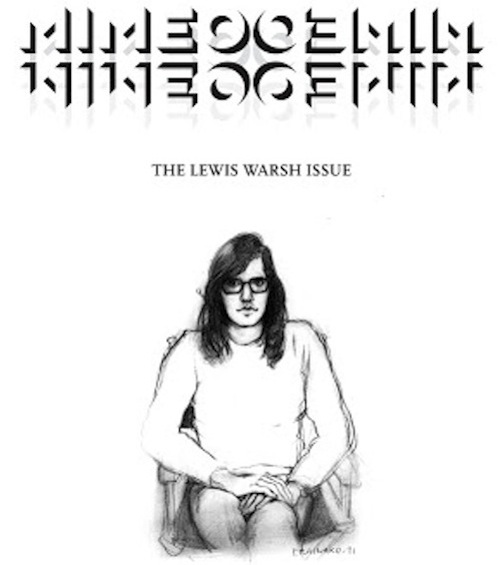 This is for you Lewis Warsh fans, and all others interested in the extended New York School; or, let's face it, poetry. First! Cuneiform Press has announced the publication of MIMEO MIMEO #7 • THE LEWIS WARSH ISSUE !! From the release:
This is the first magazine ever devoted in its entirety to poet, novelist, publisher, teacher, and collage artist Lewis Warsh. Warsh was born in 1944 in the Bronx, co-founded Angel Hair Magazine and Books with Anne Waldman in 1966, and went on to co-found United Artists Magazine and Books with Bernadette Mayer in 1977. He is the author of over thirty books of poetry, fiction and autobiography, the Director of the MFA program in Creative Writing at Long Island University in Brooklyn, and as you'll soon discover, so much more. Includes an introduction by Daniel Kane, an interview conducted by Steve Clay, ten new stories, five new poems, numerous photographs and collages, plus an anecdotal bibliography. Over 200 pages with cover art by Joe Brainard.

[...]

In celebration of this occasion, we'll be posting one title from the anecdotal bibliography on the Mimeo Mimeo blog a day for the next 30 days. Stay tuned!

And please visit Granary Books to see a selection of striking collages and unique poet's books created by Lewis Warsh.
Ordering information is on the Mimeo Mimeo and Cuneiform sites. Now, second! Granary Books, in conjunction with the Cuneiform release, is offering for sale a selection of "striking collages and collage books created by Warsh"--this is a part of his art practice very rarely seen. Below is a spread from Alien Abduction, 2012.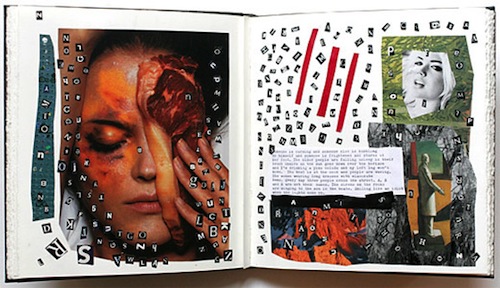 More from Granary:
We've published several projects with Lewis over the years including: Bustin's Island '68, a work which asks for a new rubric, call it a poet's book; The Angel Hair Anthology, a massive gathering from the formative magazine and press he edited with Anne Waldman in the sixties and seventies; Inseparable: Poems 1995-2005, with a Warsh cover collage; and Debtor's Prison, a collaboration with visual artist Julie Harrison.

It is therefore a special privilege to share a rarely glimpsed but most important aspect of Warsh's practice since 1996. His collages seem a natural if not inevitable extension of his writing, and portray a visual dimension that is sumptuous, alluring and mysterious.
You can visit the site for highlighted images, and inquire with Granary Books' Steve Clay about availability. We appreciate this bit from Warsh's artist statement:
I continued doing image-based collages until 2006 when I started using letters. I cut letters from magazines—white letters on black backgrounds, black letters on white backgrounds, and letters of various colors. I covered poster boards—8x10, 11x14, 16x20—with letters. I became aware of the shapes of letters, and then the sizes of the letters I was cutting out, but most of my decisions (where to put the letters) were intuitive and in the moment. I didn't attempt to spell any words with the letters, not at first. I became involved in clustering letters—a lot of A's, for instance, in one corner. Often the letters overlapped one another, but not by much. Mostly I used art magazines—someone gave me about 100 back issues of Artforum. I learned a lot going through these magazines and reading the articles.

I began to see that variations were possible. I did one collage just using the lettter "E"—both capital and lower case, a kind of homage to Georges Perec who wrote a novel, La Disparition, without the letter "e". In another series of collages, I spelled out the words "Hysteria" "Obsession" and "Paranoia." The possibilities were endless. I did a series of SOS collages. I did about 5 very large collages, approx. 30x40 inches.