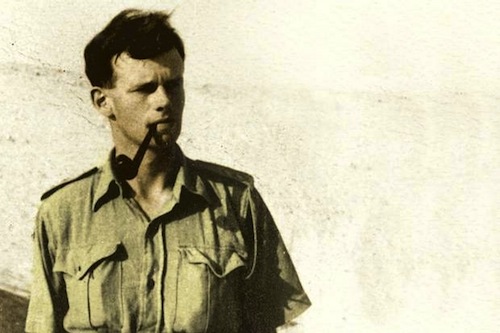 A new biography of the British poet Frank Thompson is reviewed in the latest issue of The Economist, detailing the life of a man who, like many others, wrote poems in memory of his fallen comrades during the first World War. But Thompson distinguished himself in many ways:
[Thompson's] brilliance was apparent from an early age. The elder of two sons in a formidably intelligent and high-minded family, he was from a missionary background on both sides. His father E.J. Thompson wrote many books, lectured in Bengali, and was a friend of Nehru and Gandhi; his brother became the radical historian E.P. Thompson. Frank was something of a child prodigy, always advanced for his years. When he died he was a major in the army and commanding men several years older than himself. A classical scholar at Winchester College and at Oxford, he was proficient in nine languages and a voracious reader. (He read "War and Peace" many times, once in Italian.) A dictionary in his haversack stopped a bullet in his back. The poems of Catullus were found on him after his death. And when not reading he was writing: letters, diaries, poems, 250,000 words during the war alone.
Thompson was killed in Bulgaria in 1944. Read the full review here.