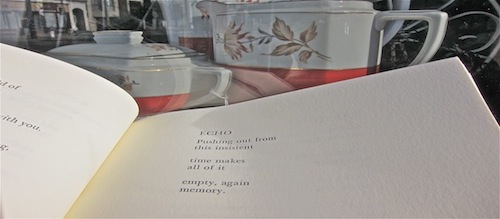 The brand-new Executive Director of the Academy of American Poets--that's Jennifer Benka to you--has graced Sina Queyras's Lemon Hound with some "Poemgraphs." Essentially, Benka has shot some poems. She and Sina talk shop; here's an excerpt from their conversation:
JB: I started experimenting by shooting some poems in Gregory Corso's Elegiac Feelings American, holding the book and poem up to the big blue San Francisco sky, which seemed a fitting tribute to him. I didn't get these quite right. The process cohered for me when I shot one of my favorite poems by Carol Mirakove. With that piece I began thinking intentionally about light, angle, and environment and how they bring something new to a poem.

SQ: Some of these are very transformative. The way the Brooks poem struts out, such a tall column of strength, but also, that kind of leaning and decorative bent. Very powerful and yet such a subtle twist on a classic poem. And I love the title (I'll post this one). How did this one come about?

JB: Before I take any photographs I sit with the text. I listen and look for the parts that are reverberating. Sometimes it is a few words. Sometimes it's the whole poem. To see Brooks's best-known poem on the page, which is so visually successful, is to hear her in your memory reading it. How she punched the "we" while swallowing it. How "we" is the beginning and the end, everything and nothing. I wanted the word, which ends Brooks' lines, to instead be the strong centerpiece of the photo.

SQ: You know I love street art/interventions and for a while I was working with found objects in New York. These are similarly sort of random, but also they evoke a new relationship to the text. As if it could be, or should be part of a landscape. Do you know the work of Allyson Clay? She's a Vancovuer photographer. I included her in a folio of Canadian work for Drunken Boat. She is looking similarly at the text entering into other worlds through that text, though here the text isn't the point. For you it is. Or is it?

JB: Thank you for sharing Clay's work. I wasn't familiar with it and she definitely seems like a kindred. Yes, for me the text, the poem, the book is the point. Sometimes, as with the Brooks piece, I am aiming to transform the poem visually. With other pieces, I am also attempting to inject and document the poem/book in the public sphere. There is something to be said for outing the poem.

SQ: Were you consciously thinking of another photographer? Are these translations then? Or reframing? Or, can we say they are a kind of biography of reading and walking?

JB: Visual artists who use text as their central element have provided great inspiration. Notably Jenny Holzer, whose work I've admired since the 80s. Also Joseph Grigley's and Mel Bochner's work in different ways. Because I studied photojournalism and not fine art, I am drawn to documentation and the street over the studio. I have always admired the work of photographer Bernice Abbott who floated in Parisian literary circles and then returned to New York to record street life and architecture. And lately I have been amazed by the work of Vivian Maier. Her work has only recently been brought to light and much of it is still being cataloged. She had an incredible eye, as well as a genius for finding the unexpected.