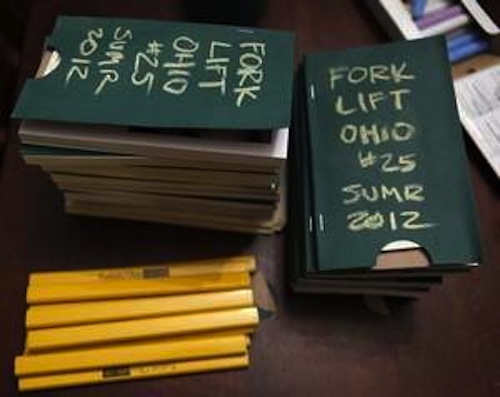 Check out this great write-up on the lovingly crafted, oft celebrated Forklift, Ohio at Cincinnati.com.
It begins:
Forklift, Ohio is a place. A weird and wonderful place where poems and short stories bump into images that collide with recipes that bang into treatises on light-industrial workplace safety.

Actually, it might be even more peculiar than that, because Forklift, Ohio is a poetry journal produced an average of 1.3 times a year in Cincinnati by three longtime friends.

At a time when it can seem like all forms of communication are delivered electronically and antiseptically – see: e-books, email, and, gasp, even newspapers – Eric Appleby, Matt Hart and Tricia Suit are hand-making journals, turning each into a piece of art itself, sometimes using drill presses or pneumatic staplers or shotguns during production. Readers need a corkscrew to open Volume 24.

They do it because they love poetry and because they want to form a community of like-minded people. They do it because they believe poetry is wonderful enough to be taken seriously. Just not too seriously.

"Poetry is language made strange. Taking words out of context," Hart said. "Forklift, Ohio is real poetry by real poets framed in what we call a most unusual manner."
Then, a bit later:
The journal was helped significantly when Hart met poet Dean Young, who loved it. Young is a successful and influential poet. He started handing out copies of Forklift to his friends and students. He talked it up to other poets.

In 2001, Forklift underwent a serious facelift. Many poetry journals and literary magazines were going online to keep costs down. People were self-publishing their works on blogs.

Suit, Appleby and Hart decided to go in a completely different direction. "We started to become what we now call an object book," Suit said.

The poems would be placed among recipes and old safety manuals. There would be knot-tying illustrations and old advertisements placed next to short fiction. Pages would be riddled with buckshot.

Once or twice a year, Hart picks the poems, Appleby does the design and Suit checks the recipes. She also makes sure the people who volunteer to help are hitting their deadlines. She bears the title of managing editor, she says, for a reason.

Most of the design elements come from old books. The paper and supplies comes from office supply stores. "As much as I like to think it is artful," Appleby said, "in truth it is very pragmatic." The pages are printed at a copying center, and all of it is put together on Suit's and Appleby's dining room table.

It is the design and the concepts that make it different. The gun issue in particular was a lot of fun.

The journals sell for $12 each. They used to make 250 of each edition, now they make 500. They sell them online and at poetry workshops. They feel lucky when they break even.

"We are not a not-for-profit, but we are not for-profit either," Appelby said.

They keep it doing it for the same reasons they started. They love poetry, they like nurturing a community, they have fun doing it.
Full article here.