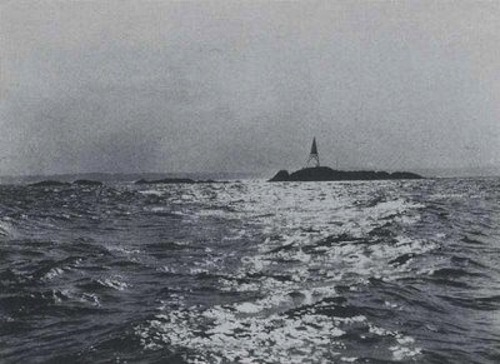 James Parker wrote this piece for The Boston Globe. In it, he describes a trip to the Dry Salvages, a group of rocks, with a beacon, off the N.E. coast of Cape Ann, Massachusetts, that makes an appearance in T.S. Eliot's Four Quartets.
Parker writes:
On a stormy afternoon in late September, I visited the Dry Salvages with some friends. We formed a company, it has to said, more Edward Lear than T.S. Eliot: two Englishmen, an Episcopalian priest, and (our captain) the treasurer of the town of Ipswich. Forward we fared, outward we voyaged, from Rockport's Pigeon Cove Harbor—where the Marauder and the Amber Jean and the Anger Management rode at anchor—and into a muscular six-foot swell. The low clouds were a dull pressure above our heads. Our boat, an 18-foot Center Console Robalo, reared and wallowed dramatically; genies of nausea lurked in the sea-pockets. And there, a mile or so out, were the rocks: the Big Salvage, always visible above the water with its white crown of guano, and its smaller, more treacherously amphibious neighbors.

"I must turn my drowned pen and shaking hand to indite this story...." So wrote Anthony Thacher, relating the disaster that came upon him and his family on Aug. 11, 1635. Sailing from Ipswich to Marblehead, his ship was driven up against the rocks now known as Thacher's Island, off to the east of Rockport. Thacher saw "mine own poor children so untimely (if I may so term it without offence) before mine eyes drowned, and ready to be swallowed up and dashed to pieces against the rocks by the merciless waves, and myself ready to accompany them." On Sept., 15, 1955, records the Massachusetts Office of Coastal Zone Management, an 82-ton fishing boat called the California foundered on the Dry Salvages. With his patented downbeat ecstasy, Eliot in "The Dry Salvages" summons "the menace and caress of wave that breaks on water/ The distant rote in the granite teeth,/ And the wailing warning from the approaching headland..."—lines praised for their authenticity by Rear Admiral Samuel Eliot Morison, who wrote that they would "ring a bell in any sailor's heart."

You know when you've stepped inside a poem: You feel it, you hear it, the tuning-fork hum of a superior imaginative energy. While the tension holds, everything around you has a strange and dreamlike valence. Visiting the Dry Salvages is not like that. As we lurched towards the rocks, and began to hear the smack and suck of the waves at their rough ledges, I was only, glumly, aware of a kind of age-old lumpiness in reality—a hardness, a juttingness. The roosting cormorants disapproved of us. Three seals raised their heads above the water and regarded us with empty curiosity.
Full article here.