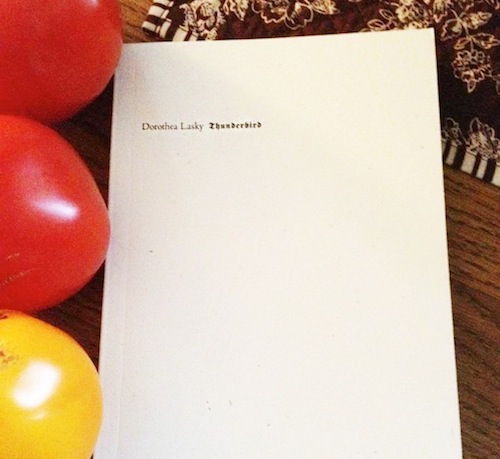 Blake Butler puts Dorothea Lasky in a VICE grip and doesn't know whether to kneel or cover his ears. No, really! It's a review of Thunderbird (ahem—we hear the hardcovers are sold out)! MORE about this "WILD-ASS SHOUT-BRAIN":
Her poems often feel this way: like an extremely powerful child has been taken over by a shitload of wild colors and must speak. I remember I wasn't sure whether to cover my ears or get on my knees. It's somehow at the same time both calming and terrifying. Most anybody who's seen Ms. Lasky read aloud in this manner could likely tell you how it felt, which is quite something considering how dull the act of being read to is usually.

Even stranger is how on paper Lasky makes what she has written go kindly for the throat in the same way. Whether writing about blood or going to hell or friends or fucking, there is a simultaneous sense of simplicity and urgency, like the kind of tone you'd use when shouting from inside somewhere on fire. I'm about as sick as I could be with minimalism, and this is no minimalism: it's somehow thicker than that, allowing confession without the ridiculous indulgence, allowing butts and tits and plane wrecks to appear in the same sentences as god.

Lasky's third book, Thunderbird, released this week from Wave, follows her two previous works, Awe and Black Life, in an even more boiled-down, death-eyed way. As far as she had gone before in verifying there are still humans with blood and brains here on Earth despite whatever, Thunderbird is quite precise in the distance between those people and their communications. Here the child-voice is the strongest, in that it takes into its mouth things most children haven't yet been hit with. "Writing is death," she writes only a few pages after, "It is all so far off, I know / I know / I know it is 2015 when you are reading this / It is all so far off / I know we are dead when we are reading this again / I know it is all so far off / I know."
Read the full review here.