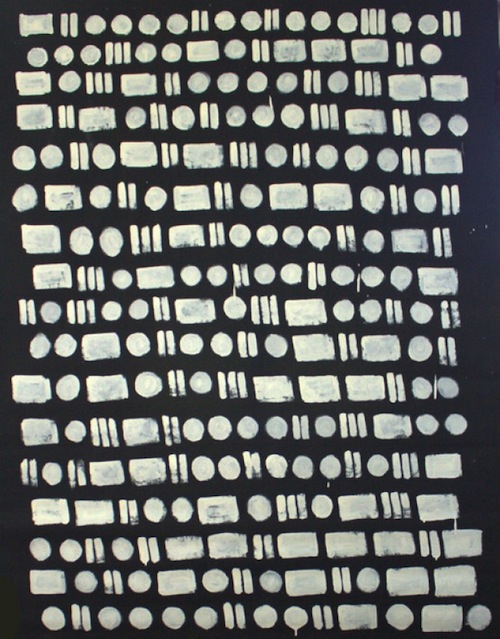 Here's the latest in enigmatic poetry ventures: an experimental artist is giving his poetry art away--in pieces, hidden in books scattered around Los Angeles. Galleycat has the scoop:
Los Angeles artist ETMCA painted a coded 20-line poem called "The Ones" across ten large canvases. The artist cut some of these paintings into pieces and hid the fragments in Los Angeles used bookstores so readers can discover his "message art" in the real world.

...Here's more from the artist:

The motivation behind creation of "The Ones" poem, was to compose a commemorative work dedicated to "The Ones", a figurative group of people that anyone can identify with as their ancestors, predecessors or "ones" that existed, sacrificed, or performed the work that has made the lives, livelihood, or pursuits we each enjoy possible. The "ones" that come to mind for one person may differ from the "ones" of another. However, this poem was created to give respect to ALL of the "ones". The first five of these ten canvas have been assigned to Los Angeles. While the others are to be placed in another city (or cities), which has not yet been disclosed.
Go here for more details and a video of the project.