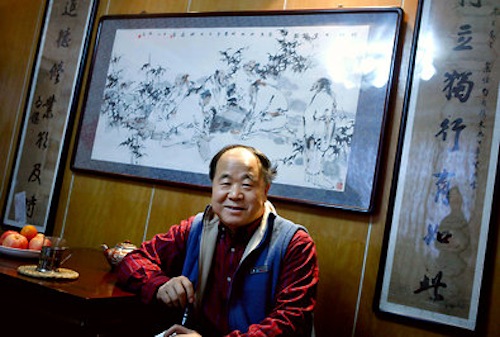 Wow. As the NYT noted in its original announcement of Chinese writer Mo Yan winning the Nobel Prize for Literature:
Two years ago, when the jailed Chinese dissident Liu Xiaobo won the Nobel Peace Prize, the government reacted with contempt and fury, scrubbing the announcement from the Internet, condemning the award as a "desecration" and calling it a Western propaganda tool intended to insult and destabilize the ruling Communist Party.

Government officials even retaliated against Norway, the country that awards the peace prize, denying visas to Norwegian dignitaries and delaying shipments of Norwegian salmon for so long that the fish rotted before they could clear customs.

But all that seemed forgotten on Thursday, when word came that another Nobel, the 2012 literature prize, had been awarded to another Chinese citizen, the internationally renowned author Mo Yan, and China erupted into something close to a national celebration. The state-run CCTV interrupted its prime-time broadcast to announce the news; the nationalistic Global Times tabloid posted a "special coverage" page on its Web site; and in a glowing account, the state-run People's Daily prominently wrote that the prize was "a comfort, a certification and also an affirmation — but even more so, it is a new starting point."
In a strangely comforting irony, Mo Yan has now called for the release of fellow Nobel winner Liu Xiaobo, who is currently in prison serving an 11-year sentence "for subversion." More from the new Times article:
"I hope he can achieve his freedom as soon as possible," Mr. Mo, 57, told reporters during a news conference held a day after he won the 2012 prize for literature. He spoke not far from his family's home in rural Shandong Province, the setting for many of his epic novels.

Even if Mr. Mo's remarks were spare and decidedly nonconfrontational — he went on to suggest he was not an admirer of Mr. Liu's pro-democracy essays — they are likely to infuriate China's leadership, which has been exulting in the Swedish Academy's decision to give China its first Nobel in literature.

Beijing considers Mr. Liu a criminal, and the Nobel Peace Prize awarded to him in 2010 has long been seen as an effort to meddle in China's internal affairs.

Despite the throng of Chinese reporters attending the news conference, Mr. Mo's comments did not appear in the state-run media. But they quickly spread via Twitter, electrifying Chinese literati, many of whom had been critical of his close relationship to the Communist Party, especially Mr. Mo's role as vice chairman of the government-run Chinese Writers' Association.

Ai Weiwei, the dissident artist who a day earlier had criticized Mr. Mo for cooperating with the authorities and refusing to stand up for persecuted writers, said he was heartened by the remarks. Murong Xuecun, a prominent writer who frequently jousts with the censors, mused that Mr. Mo had felt inoculated by his newly acquired Nobel mantle. "Maybe all the glory has made him more courageous and more outspoken," he said in an interview.

It is unlikely Mr. Mo's comments will derail his celebrity status, at least in the eyes of the government. On Thursday, Li Changchun, the nation's propaganda czar, issued a congratulatory letter heralding the prize as a sign that China's cultural influence was finally catching up to its size and economic heft. "Thus Chinese writers can contribute more to the prosperity and development of Chinese culture, as well as the progress of human civilization," Mr. Li wrote, according to the official Xinhua news agency.
Read the full story.