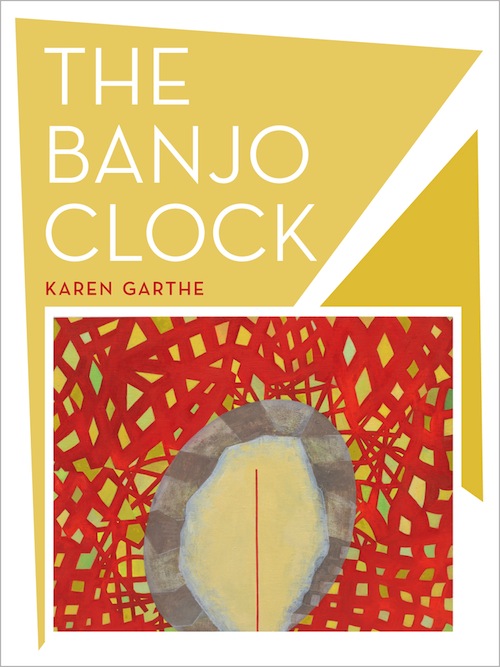 If you haven't had a chance to peep out Seth Abramson's latest set of mini-reviews at HuffPo, consider this is your last call! As per usual, Abramson covers a lot of ground. We'll get you going with this bit from his review of The Banjo Clock, by Karen Garthe:
Karen Garthe writes some of the most expert--and tightly-wound--lyric poems you'll ever read. Hers is a hyper-parataxis (as opposed to the para-hypotaxis this review series has generally favored) and if you don't stop for a moment to sniff the scenery, you'll likely miss a good deal that's absolutely brilliant and even some instances of sublimity. In other words, if you're planning on reading Garthe's The Banjo Clock anytime soon, read slow. Garthe communicates neither logic nor observation; rather, she explores intellectual moods typified by sonic progressions and regressions. This is, in other words, how language looks at the end of structure and in the abscesses of coherence: analogic starbursts, sensuous ephemera, catholic collages, and mere glimpses--usually in the form of brief blocks of language a reader's mind "sticks upon" unwittingly--of semantic sense. Yet anything that seems mimetic here is likely accidental: Garthe has little interest in describing or synthesizing any scene or phenomena in usable terms, for all that her poetry is as dense, adjectival, and excitable as any verse one is likely to encounter. Few verbs here intend anything less than to gob deliciously in the mouth--The Banjo Clock wouldn't know a workaday verb from a four-pocketed kangaroo--and most of its nouns are gestural, that is to say, allegorical. Despite an occasional flirtation with the imperative and the didactic, in The Banjo Clock the gnomic aspect (that grammatical aspect that expresses general truths or aphorisms) is almost entirely absent, in keeping with the consensus among postmodernists that capital-T Truth is dead.
Quite the endorsement! But that's not all:
If discussions of the sort Karen Garthe is performing in The Banjo Clock--that is, discussions implicitly sounding out the vagaries of all language--don't really interest you, that's okay: Just stop reading poetry right now, pick up your favorite beach novella, and forget the world's oldest form of literary currency still exists in any appreciable volume. But it simply doesn't do, any longer, to write or read poems whose advancements on the Romantics are merely benedictive, whose tonalities and forms of witness and manifestations of ego are updated for the current century only in the sense that (if locomotion is the aim) the difference between a Model T and a Honda Civic is better air conditioning in the latter. What Garthe is offering today's poetry readers is a reason to read poetry rather than prose, to listen to poetry rather than electronica, to inhabit a verse environment rather than some workaday multimedia environment whose social, economic, and domestic dimensions are as unlikely to educate as they are to inspire. This is phrasal verse whose disjunctions and juxtapositions and seeming compositional meanderings are as alert to humankind's most important transactional commodity--language--as anything else our contemporary culture has invented or unearthed. [Excerpt (opens as in-browser PDF): "Fanta grape" and six others].
Please feel free to put down that beach-read and check out the rest here.