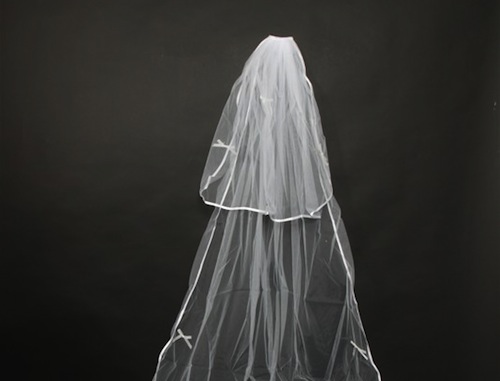 Two posts converge, here and here, and we have Johannes Göransson from Montevidayo to thank for bringing them together (and for posting the video below). At the recent panel at Poets House on the poetics of kitsch, many topics were touched upon, including Laura Mullen's poetry-weddings. About the panel, Göransson writes:
I talked about the way that "surrealism" is used as a stand in for kitsch in a lot of discussions ("soft surrealism," "candy surrealism," glittering surrealism, sticky surrealism, cute surrealism…). Now obviously I use "surrealism" in a very loose way to represent this kind of sugariness that is so reviled by so many in contemporary poetry.

So I discussed "The Veil" as "surrealist," not in any traditional sense. Though the question-and-answer rhetoric of the piece obviously invokes all those Exquisite Corpse games of Surrealism (Maybe "Exquisite Bride"). The video asks us to imagine all of the rubble as possible "veils," that most precious and virginal of objects, and as a result, to see the catastrophic landscape as a kind of bride. The speaker denies that it's the veil, but implicitly we're asked to imagine this debris as the veil, to at least entertain the possibility. The veil generates monstrous brides in our heads.

In this video I love the way the veil, that occluding, feminine object par excellence here does not hide but moves out into the urban rubble of Louisiana; it show the political dynamic of artifice and kitsch, decoration to move into the disaster spheres. Artifice – symbolized by the "bride", that pure figure that is supposed to be locked away in the attic a la Rose for Emily or Emily Dickinson herself – is moved out into the urban catastrophe space in a work of gothic, kitsch environmentalism, revealing the two spaces (bridal, catastrophic) to have always been in contact – through their kitschiness.
Make the jump to Montevidayo for the rest of Göransson's thoughts, and enjoy the video below.