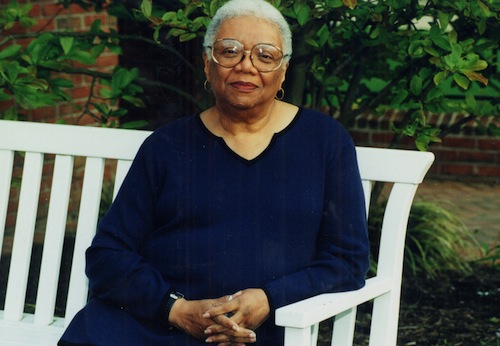 The Collected Poems of Lucille Clifton, 1965-2010, edited by Kevin Young and Michael S. Glaser, was released last month from BOA Editions. And The New York Times has reviewed it! Beautifully, Dwight Garner notes Clifton's evident spareness:
Her verse was spare, plainspoken and shorn of rhyme, so much so that when she placed the words "salt" and "fault" together in one poem in the late 1980s, she was moved to warn readers of this potential speed bump by titling it "Poem With Rhyme in It."
Young wrote in an afterword to the book that many of Clifton's poems included here were unpublished:
...Young...notes that a few works were fished from a file that Clifton had titled "Unpublished Poems," then retitled "Old Poems and Ones that May Not Be Poems at all and Maybe should be thrown away One Day." She finally retitled the file "Bad Poems." Mr. Young and his co-editor, Michael S. Glaser, were correct to include this material, especially Clifton's unpublished early work from the mid-1960s. Clifton was most often at her best, to my ear at any rate, in the first decade of her career, and her debut collection, "Good Times" (1969), is a near masterpiece.
More:
Clifton won a National Book Award in 2000 for her collection "Blessing the Boats: New and Selected Poems, 1988-2000." By then our sense of her work had changed somewhat. Her poems had become more celebratory and gauzy and nurturing; there were perhaps too many about dreams or moonchildren, and there was too much greeting card verse meant to be declaimed on friends' birthdays or anniversaries. Some of this material bordered on the fatuous.

Yet it's tonic to read Toni Morrison, in her introduction to these collected poems, slap down this critique of Clifton's work. "To me she is not the big mama/big sister of racial reassurance and self-empowerment," Ms. Morrison declares. "I read her skill as that emanating from an astute, profound intellect."

Ms. Morrison is dead-on about Clifton's wiliness and brains, but you sometimes have to look for these qualities in her work. They are not apparent in every poem, which is why this very large collected volume does not serve her particularly well. A future, thinner, selected volume will better make an indelible claim for her greatness. It's joyful work, however, compiling your own mental list of the material you'd like to see in that utopian Lucille Clifton anthology. How about the poem where she walks down a supermarket aisle with Aunt Jemima and Uncle Ben? Or the one called "To My Last Period," which begins: "well girl, goodbye/after thirty-eight years"?

Or the sly poem in which she remarks on the difference between Eddie Murphy and Richard Pryor:

eddie, he a young blood

he see something funny

in everythin      ol rich

been around a long time

he know ain't nothing

really funny

Or the one called "Wishes for Sons," in which she memorably declares: "I wish them cramps./i wish them a strange town/and the last tampon/i wish them no 7-11."

Clifton was born polydactyl, with 12 fingers, and much of her finest work pays close attention to the rhythms and ravages of her own body. . . .
Read the full review here.