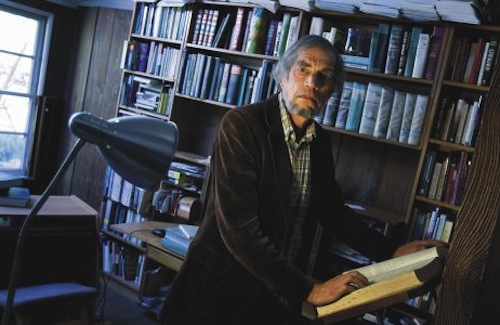 Translationista Susan Bernofsky pays tribute to translator and UCLA professor of Slavic languages and literatures Michael Henry Heim, b. 1943, who passed away over the weekend after a battle with brain cancer. Earlier in the day yesterday, Bernofsky mentioned Heim's translation of Thomas Mann's Death in Venice when writing about International Translation Day. Upon news of his death, she writes:
...[I]t is a profound loss, not only for those of us who knew and loved him, but for all the readers of the books he translated from a good dozen languages. He really made his mark all over this planet. It was Mike who got the call when the Czech and Slovak halves of Czechoslovakia were in the middle of their divorce; the Czech government wanted to know what words to use in English to name their new country - the one we now know as the Czech Republic.

A good dozen years ago I found myself traveling across Germany with a band of American translators including Mike, on a study tour sponsored by the Goethe Institut, and can report that Mike spent a certain amount of time every day without fail studying Chinese, surely his 13th or 14th language at that point. I think he had at least some proficiency in all, or nearly all, the languages of both Eastern and Western Europe. He translated from several. And was always the most stalwart supporter of younger translators coming up, whether or not they had passed through his classroom (I envy those who did). A couple of years after that translators' outing, I got a call from New Directions asking if I wanted to translate Jenny Erpenbeck's book The Story of the Old Child; Mike, they said, had recommended me. Which I knew could only mean that he himself had been offered the contract and had remembered that I loved the book - I'd been given a copy when we visited Erpenbeck's German publisher in Frankfurt and had devoured it on the train to Munich, unable to stop talking about how much I liked it. Mike had decided to make me a gift of this book, perhaps sensing that Jenny and I would be a good fit (a hunch borne out by the fact that I will soon be translating my fourth book by her). For this act of generosity, I will be forever grateful to him.
You can read Bernofksy's full post here. The New York Review of Books' Twitter feed points us to the fact that Heim's languages included Czech, French, German, Italian, Russian, Serbo-Croatian, Danish, Hungarian, Latin, Slovak, Romanian, and Spanish; and that earlier this year, he was translating a Chinese novel just for practice. Our thoughts are with his friends, students, and family.