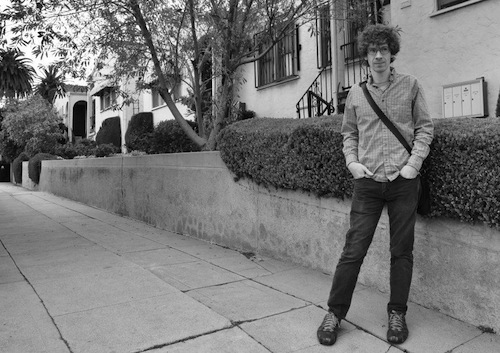 Triple Canopy has just posted a podcast of their first session in the Poems for America series--part of the larger program Corrected Slogans, which we told you about a little while ago. So if you missed seeing Aaron Kunin speak, you're in luck. More from the site:
Here we present a recording of the initial session, À Rebours, a conversation between poet Aaron Kunin and artist Ken Okiishi, moderated by Katie Raissian. Poems for America is part of Corrected Slogans (A Publication in Four Acts), a collaboration with the Museum of Contemporary Art Denver in conjunction with the exhibition "Postscript: Writing after Conceptual Art."

Poems for America considers the ways in which acts of unoriginal composition—quotation, appropriation, transcription, and so on—create an aesthetic milieu in which certain modes of cultural production become legible, both historically and with reference to contemporary experience. How do the strategies inherited from conceptual art permit writers and artists to narrate the construction and projection of the self in relation to lived experience (rather than emphasizing abnegation of the self in favor of engagement with abstract concepts)? How do artists and poets engage with systems of language and thought to investigate the construction of historical and political identity, even while rejecting traditional modes of self-expression? How is conceptual writing and art published, and how is it shaped by changing technologies and related approaches to publication?
As for future programming:
Acts 2–4
The second act of Corrected Slogans is Automated Reading, a public seminar on conceptual reading to be held October 20, 2012.

The third act is Corrected_Slogans, a special issue of the magazine highlighting Triple Canopy's work in conceptual poetics and the expanded field of publication, including a series of articles by Erica Baum, Gareth Long, and Caroline Bergvall, all of whom are participating in "Postscript."

The fourth act, a book generated by the symposium and seminar and designed by Franklin Vandiver, will be published in January 2013, in collaboration with the Museum of Contemporary Art Denver.