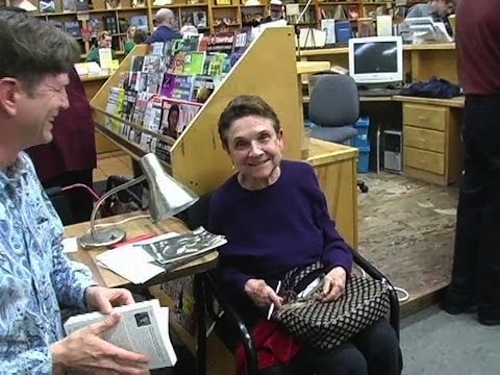 Check out this article from the Santa Cruz Sentinel. In it we learn more about Adrienne Rich and her life in the Santa Cruz community, in addition to an upcoming reading in her honor.
It begins:
She may have been the most prominent single artist to have ever called Santa Cruz home. But many people around town saw Adrienne Rich a bit differently, as a neighbor and a friend.

"Santa Cruz was very central in her life," said Jacob Conrad, one of three sons of the internationally respected poet who died in March at the age of 82. "I think of how much affection she had for the shops she knew, places like New Leaf and Bookshop Santa Cruz and Capitola Book Café, and for her favorite drycleaner and the waitress at Johnny's (Harborside). You would walk into these place with her and everybody would want to say hi. I don't know how many of the people she was coming into contact with in the course of her day actually knew she was an acclaimed poet. They just knew her as a nice lady."

On Sunday evening at Santa Cruz High School, in an event sponsored by Bookshop Santa Cruz, Rich will be remembered both as a pillar of the community, and as a towering figure in the world of feminist poetry and literature.

"The Adrienne Rich Memorial Reading" will feature a handful of prominent poets and Rich admirers including Robert Hass, Brenda Hillman, Bettina Aptheker, Linda Janakos, Doren Robbins, Michael Warr and Eavan Boland, all to read from Rich's work and to share how she influenced their own work.
Then, later, Rich's son Conrad reflects:
"One of the things that I discovered since her passing," said her son Conrad, "was how large a circle of younger writers she was corresponding with and engaging with on their work. It was something she did very quietly. She felt like she was part of a community of writers sharing with writers."

Rich had moved to Santa Cruz in the early 1980s with her long-time partner Michelle Cliff. For the rest of her life, Santa Cruz continued to be a source of comfort and inspiration for her, artistic and otherwise, said Conrad.

"(Santa Cruz) had a very strong impact on her and her work," he said. "In her poetry, you can just read it in the references to the landscapes and the climate. But beyond seeing it as an inspiration in her poetry, she felt that Santa Cruz was a very sheltering place for her. She didn't feel it was just a college or resort town. She really appreciated that it wasn't just an academic bastion, but that it was a place where all sorts of views are aired."
Full article here.