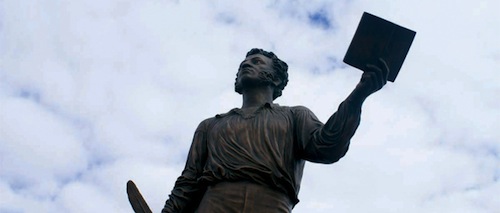 Well, not the Pushkin you're thinking of—the other one.
From RT.com:
One would think that if your name is Aleksandr Pushkin you would be safe. But a young man bearing the same name Russia's most-celebrated poet didn't even have a chance to mention his moniker when he was attacked by burglars.

­The 31-year-old, named after the creator of "Eugene Onegin", told police he was attacked in Moscow by a pair of criminals in the Russian capital in the middle of the night.

Pushkin said the thieves threatened him as they stripped the famously-named victim of his iPhone and US$2,000, and fled.

The robbers are still at large, according to Interfax.
Rough scene for sure.