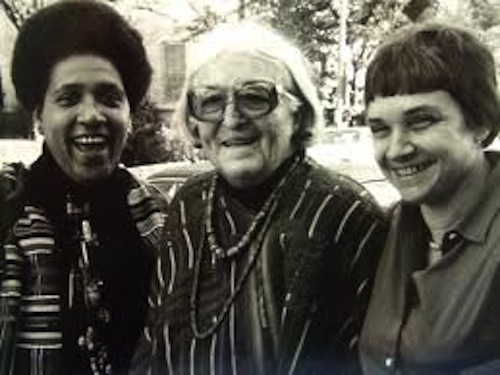 Tomorrow from noon to midnight, this is not to be missed, for sure. A marathon reading of work by and about two legendary poets, Audre Lorde and Adrienne Rich. From the Lesbian Herstory Archives website:
The Lesbian Herstory Archives (LHA) is celebrating the lives and contributions of Audre Lorde and Adrienne Rich with a marathon reading of their work. Their work and presence as poets, theorists, activists and teachers inspired decades of anti-racist, feminist, and lesbian feminist thought and activism. We will read from their poetry and essays, as well as Audre Lorde's biomythography, Zami, and Adrienne Rich's autobiographical reflections, Institution of Motherhood. We will have access to their unpublished papers housed at the Archives, Lorde's lectures and talks, recordings of Lorde and Rich reading their work and together in conversation. In addition, artifacts from their archival collections, including a photo exhibition featuring images of Lorde, will be displayed and passed around. We especially welcome your memories and thoughts on their impact on your own life and work.

This event marks the twentieth anniversary of Audre Lorde's transition to becoming an ancestor and the year of Adrienne Rich's transition/passing. This joint celebration will honor their life-long dialogue on issues that remain critical in our lives.
All the deets can be found here, include schedule of events and list of participants.