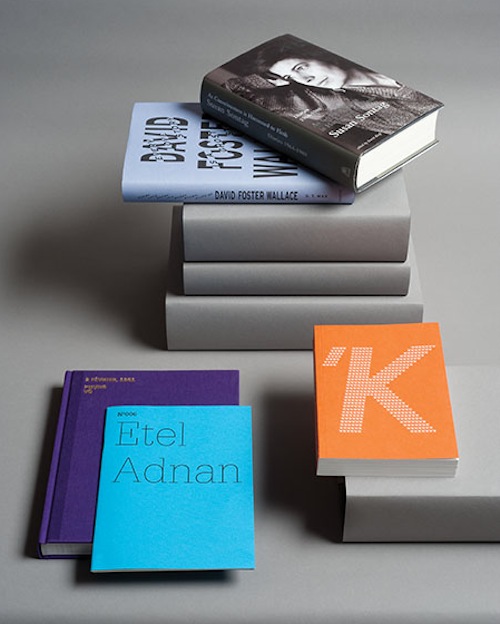 The arty Frieze Magazine is probably at the front of the class, head of the pack, whatever that saying is, with a "Year in Books" feature (and a highly enjoyable one, at that). Starting with some sound words from an essay by poet Etel Adnan: "So much is spent on passions that do not demand one's direct implication," from "her small book The Cost for Love We Are Not Willing to Pay (Hatje Cantz, 2012)," Frieze's Quinn Latimer also writes on Cynthia Cruz, Karl Holmqvist, Danh Võ, and David Foster Wallace (an interesting group). More on the poets:
If contemporary poetry is often noted for its intimacy, it is just as often derided for its lack of engagement in the less lyrical and more quotidian world. Yet two recent books of poetry take the task of implication seriously, and in quite different directions. Though Cynthia Cruz begins The Glimmering Room (Four Way Books, 2012) with a quote from the Gospel of Thomas that thunders, quietly, 'If you do not bring forth what is within you, what is within you will destroy you,' the poet's second book is mostly concerned with the things without – particularly those that damage and destroy. She marries the tropes of lyric poetry (nocturnals, gospels) to an American underclass populated by truckers, laundromats, Seconal and desert. Recalling the glittering, impoverished milieu of Denis Johnson's early poems and the noun-awed theatrics of Lucie Brock-Broido, Cruz's 'traveling minstrel show / called girlhood' is articulated by the relics delineating its emotional and material deprivation: 'an old black motorcycle and crutches / Someone left leaning / Against the limb of an oak tree'.

Karl Holmqvist is a different kind of poet, in that most of his work is received in the art world, where he performs his poems in a witty, trance-like drone. 'K (JRP | Ringier, 2012), an inimitable source of pleasure, collects his recent poems and is published on the occasion of his 2011/12 solstice readings at Kunsthalle Zurich. Unsurprisingly, both the art and literary worlds are directly implicated in Holmqvist's practice. Printed entirely in upper-case letters, the poems cascade down the pages in waterfall- or skyscraper-like columns or make circular or diamond shapes. A favourite poem goes, in part: 'CHRIS KRAUS / KITTY KRAUS / CHRIS KRAUS / KITTY KRAUS / ROSALIND KRAUS / FITNESS FIRST / THEN WHAT? / THE DURUTTI COLUNM.' If Holmqvist's ardency for repetition can conjure the famous John Cage quote about boredom, his weird virtuosity keeps his audience in thrall. Maybe that's his implication.
That one's sold out, but they're awaiting more (as is Adnan's--though if you're in New York, we think McNally Jackson might have some in stock). All sounds good. Read the full review.