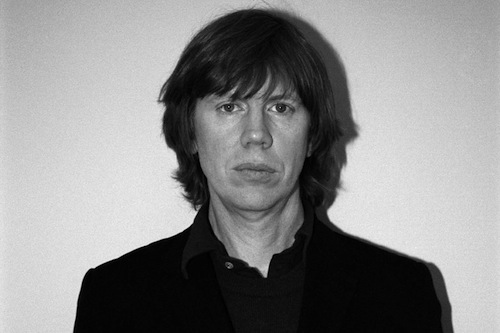 Poets always want to be rock stars, right? So it's refreshing to see a rock star pull off a poetry crossover. Case in point, check out this piece at Berfrois, in which Logan K. Young recounts his experience of studying at Naropa with poet and Sonic Youth co-founder Thurston Moore :
He opens:
Remember this: Thurston Moore came to New York City to be a poet.

Tired of driving his old man's Volkswagen down from Connecticut, it was Gotham Book Mart, not CBGB, that convinced him to make the move in 1977. Bohemia had put down roots on the Lower East Side; Moore was sure he'd blossom.

Yes, the spectre of Suicide at Max's Kansas City, the promise of Glenn Branca, Rhys Chatham, et al. at Artists Space were amenities, especially for the blighted isle Mayor-elect Koch had just won. But it was readings at The Poetry Project at St. Mark's Church in-the-Bowery by the likes of Paul Blackburn, Ted Berrigan, Ron Padgett, Bernadette Mayer, Eileen Myles, and apropos, Allen Ginsberg and Anne Waldman that Moore wanted most to hear.

Soon enough, à la Patti Smith, he would learn you could be both.

Despite everything he's since achieved in the sounding realm, Thurston Moore can't help but surround himself with words to be spoken. Ten volumes in, his Ecstatic Peace Poetry Journal has published everyone from John Sinclair and Tuli Kupferberg to Jack Brewer and Ian MacKaye to Matthew Wascovich and Twig Harper. Meanwhile, his fresh cut, newly-minted Flowers & Creme Press aspires to this same kind of Catholicism, as his personal archive of chapbooks, broadsides and other poetic ephemera spills out his Northampton, Massachusetts home.

Moore wants to be a poet. Still.

To wit, some three-and-a-half decades post-émigré, it was words once more that brought Thurston Moore to Boulder, Colorado.

For the second summer now, Prof. Moore has sat on the faculty of The Jack Kerouac School for Disembodied Poetics at Naropa University.
Young then takes us on a day-by-day itinerary of the course, replete with video clips. Here's Friday:
Friday's class, devoted to sound poetry, favored more structure. In fact, it was the only meeting where Moore felt compelled to reference a source other than himself. That source? Julian Cowley's primer for The Wire (Issue #339) some enterprising student-poet had shown him the day before.

"Fumms bö wö tää zää Uu, pögiff, kwii Ee" Moore pronounced, in his best Kurt Schwitters.

Not surprisingly, Professor Thurston J. Moore gave no final examination.

Ultimately, it was Moore's, and Moore's alone, unique dichotomy of rock star demagogue and unbridled fan of poetry that made his class worth the audit. Scansion, simile, synecdoche―such elements of praxis are lost on Thurston Moore, as they would any experimental jet set trash dressed up in academic tweed. But as a living link from Rimbaud to Richard Hell, Burroughs to, most recently, each member of Twilight, perhaps there's no one more qualified, at least via syllogism, to helm a summer stock seminar at Naropa.

Of course, that's precisely why he's been invited back to Boulder as a third-time charmer in 2013; exegesis is selling-out, man.

"Rock stars can't be poets/which sucks," goes Moore's laconic lament in By The Lightswitch, his brand new communiqué from the aptly named, Mondo Bummer. Alas, save for Dylan or maybe David Berman, they cannot. (And next to major label tripe from a Jewel or a Billy Corgan, some stars really shouldn't shine.)

Call Thurston's complaint, then, Moore's Law. Regardless, after 35 years trying, it's clear that this Moore isn't going to stand for anything less.
Full article here.