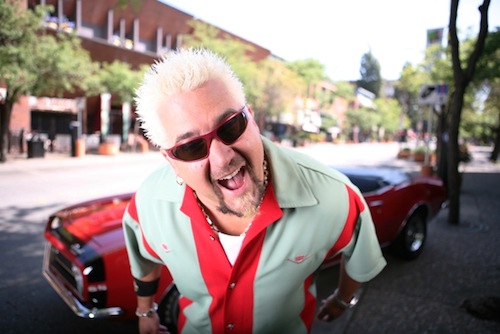 Pete Wells penned this viral review yesterday, posted at the New York Times, with reactions splashing down here and here and just about everywhere you turned to on the Internet. We were wondering where, amid the slicing sarcasm, the connection to poetry in a restaurant review might be.
Is it in his Emily Dickinson reference?
Why is one of the few things on your menu that can be eaten without fear or regret — a lunch-only sandwich of chopped soy-glazed pork with coleslaw and cucumbers — called a Roasted Pork Bahn Mi, when it resembles that item about as much as you resemble Emily Dickinson?
Or maybe in his Calvin Trillin ref?
Has anyone ever told you that your high-wattage passion for no-collar American food makes you television's answer to Calvin Trillin, if Mr. Trillin bleached his hair, drove a Camaro and drank Boozy Creamsicles? When you cruise around the country for your show "Diners, Drive-Ins and Dives," rasping out slangy odes to the unfancy places where Americans like to get down and greasy, do you really mean it?
Calvin Trillin, come on!
Or was it in the lush, Proustian descriptions on Fieri's own menus?
Guy's Pat LaFrieda custom blend, all-natural Creekstone Farm Black Angus beef patty, LTOP (lettuce, tomato, onion + pickle), SMC (super-melty-cheese) and a slathering of Donkey Sauce on garlic-buttered brioche...
After searching high and low in the review we found, of course, it's in the Donkey Sauce! (facepalm)