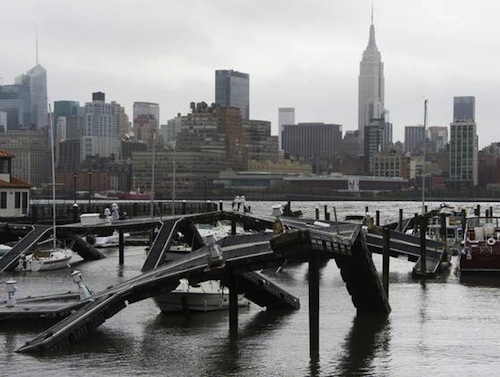 As residents along the east coast survey the damage left in the wake of Hurricane Sandy, we can't help feel appalled and amazed by the power of the storm. At the New Yorker, Sasha Weiss recalls a poem by Wisława Szymborska that seems to speak to the wreckage on the streets of New York and New Jersey:
At moments like this—when there is nothing to do but sift through wreckage, when the universe is scrambled and we perceive that some have emerged lucky and some unlucky, when we're faced with the puny proportions of our existence—I can't help but think of the poet Wislawa Szymborska. Almost all of her poems seem to have been written after some gigantic, destructive storm (and, in a way, they were: she is one of the most wry and perceptive poets of post-Second World War Poland), and she has appointed herself chief investigator. Deftly, patiently, curiously, she turns over the objects she finds washed up on the shore after a catastrophic event, imagining what uses they were put to, what uses they might have now.

[...]

One of my favorite Szymborska poems deals directly with a storm—the flood of the biblical Noah story. She has her own, idiosyncratic scheme for what should be preserved in the ark. But what's even more moving than her vision of the qualities needed to move on after destruction is her final gesture at the end of the poem. Notice the clouds and the likenesses she finds in them. What remains after a storm? The ability to make unforeseen connections—the creative insistence on growing back what's needed from what's left. Possibly, in rearranging, we'll alight on something new and better.
Make the jump for the poem and rest of the article.