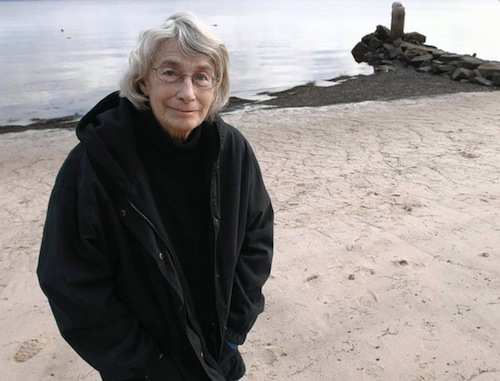 The Boston Globe will tell you. But we'll spoil it first:
BOOKS: What are you reading?

OLIVER: "Good-Bye to All That" by Robert Graves, which I like very much. I had forgotten about the desolation of World War I. I'm also reading "India" by Diane Eck, who teaches at Harvard University. It's about the sacred places that still exist in India. I went to India and was quite taken with it. There's a feeling there that things are holy first and useful second. And in this country, we have it backwards. I'm a little crabby this morning.

BOOKS: Anything else you are reading?

OLIVER: I read Rumi, the 13th-century Persian poet, every day.

BOOKS: How long have you done that?

OLIVER: About 10 years. Last night somebody at the museum asked, "What's your favorite poem?'' I said, "There are probably 25 of them,'' but I quoted Rumi, "There are hundreds of ways to kneel and kiss the ground."

BOOKS: Have your tastes in reading changed over time?

OLIVER: Not very much. The challenge is to keep up with all the new poets at the same time I love the old ones. I've recently been reading David Keplinger and Frank Gaspar. I still spend a lot of time with James Wright, Robert Bly, and Galway Kinnell.

BOOKS: Who are the old poets you return to the most?

OLIVER: Walt Whitman, Percy Shelley, William Blake, the Romantics, but not Byron so much. Christopher Smart and George Herbert, who wrote "The Collar." Unfortunately not so many women poets. Elizabeth Bishop, Lucille Clifton, Denise Levertov, yes. Adrienne Rich, sometimes.

BOOKS: Is there a book that you recommend to your students?

OLIVER: No, but I used to have an exercise: I'd say, "Find a poem by a poet you love, read it every morning for a month.'' Pretty soon they'd have it memorized. I wouldn't tell them that was what they were doing. People would come in spouting page after page of T.S. Eliot.
Full interview here.