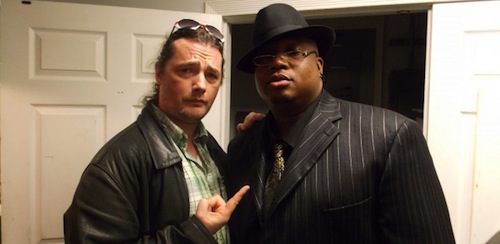 Back in April, Garrett Caples was waxing poetic on Bay Area hip-hop. Remember THE HYPHY HUMP? Sure you do. Now, via the City Lights blog, Caples is in conversation with Bay Area hip-hop extraordinaire E-40. Caples begins:
Though the question "who is the greatest MC of all time?" has no single, universally agreed-upon answer, you could make a strong case for Vallejo, CA-born rapper E-40, aka 40 Watta, Fonzarelli, Charlie Hustle, E-Feazy, 40 Soprano, 40 Belafonte, or any of dozens of other self-applied monikers. His linguistic impact on our culture exceeds even his own fame, for he was certainly Snoop Dogg's source for "Fa Sheezy," though 40 himself freely acknowledges Oakland's Keak Da Sneak as the ultimate origin of the phrase. 40 is a walking Finnegans Wake, coining slang that sometimes goes no further than his own Sick Wid It Records camp ("Smebbin'"), sometimes spreads throughout Bay Area hip-hop ("Flamboastin'"), and sometimes becomes part of everyday American discourse ("It's all good," for example, is his). His first EP, Mr. Flamboyant (Sick Wid It), came out in 1991, and where countless other rappers have come and gone in the time since, the 45-year-old E-40 has survived a 20-year stint on Jive Records, followed by a short spell on Warner Bros., only to return as an independent artist and score one of the biggest hits of his career, "The Function," earlier this year. His constant reinvention of his vocabulary, his sound, and even his flow have kept him at the forefront of one of the most fickle forms of pop music in history.
He goes on to write:
In acknowledgment of his legendary longevity, E-40 recently teamed up with the founder of Bay Area rap, Too Short, to record and release two albums called History (HeavyOnTheGrind/EMI), divided on the basis of Mob Music and Function Music. I subsequently had the chance to interview 40 as part of a rap round-up for the San Francisco Bay Guardian's year-in-music issue. Inevitably, in such a context, many of the most interesting parts of the exchange remained unused, particularly his discussion of his fellow artist Too Short, so it seems only fitting to publish some further excerpts here.
Make the jump to read the interview outtakes.