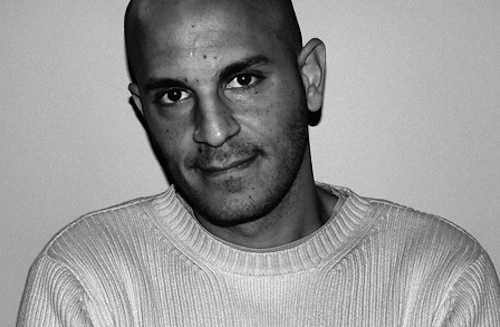 A three-part series on poetry in Gaza is currently being published over at the Los Angeles Review of Books--with Part III by Dara Barnat, Fady Joudah (pictured above), Tala Abu Rahmeh and Marcela Sulak. Organized by Gabrielle Calvocoressi, Poetry Editor; Joshua Rivkin, Assistant Poetry Editor; and Elizabeth Metzger, Assistant Poetry Editor (we had no idea that LARB had so many poetry editors!). They write of the project to put Israeli and Palestinian poets in conversation:
DURING THE RECENT EVENTS in Gaza, I was struck by how many more questions I had than answers. As poets, we spend our days thinking about specificity and detail. We attempt to make sense of the world, or at least, illuminate the ways comprehension eludes us. If poetry is news that stays news, then what can poets help us understand about seemingly incomprehensible situations?

In true 21st century fashion I issued a call on Facebook asking if anyone could put me in touch with poets and critics who were in Israel or the West Bank, Palestine. Within moments I had so many suggestions and offers of help. This in itself says something about the world of poetry. How small it is. And how varied.

It has been my privilege over the last 10 days to work with some very brave and thoughtful poets on the following dispatches on the situation in Gaza. Some of the poets are American citizens. All have a deep connection to the region. Three of our four correspondents are currently living in Israel or the West Bank. All of our correspondents wrote their pieces amidst sirens and fears for the safety of their families. Which also says something about the world of poetry.
A bit from Fady Joudah's piece, called "A Poet from Gaza will Rise...And Win the Nobel Prize":
I was recently on tour with the Palestinian poet Ghassan Zaqtan, for his book Like a Straw Bird It Follows Me. In one of the readings an audience member asked us what we thought of Denise Levertov's statement, in a letter to Robert Duncan, that she believes, in retrospect, her worst poems are the political ones. The question was really about Palestinian poetry, which is still generally defined in English as a political poetry: "Palestinian poetry does not have the luxury not to be engaged with the political, not when its entire people have been under siege, occupation, dispossession, and war for decades," Ghassan Zaqtan replied, "and as for quality, quality speaks for itself." Levertov, I also added, was a conscientious citizen of empire. Who exactly determines what a political poetry is, when it comes to Palestinians, for example? It is in no small part a construct imposed on the oppressed from within the halls of power. In other words, we continue to limit Palestinian poetry to a political frame constructed by an America that has not been able to fully and equally embrace the humanity of the Palestinian. The American government's policy of humiliation and dehumanization of Palestinians goes beyond weaponry at many levels. The recent episode of Kafkaesque banality that delayed the promised issuance of Ghassan Zaqtan's visa to the US is only an example. It was not a political decision against his person. It is an administrative policy against Palestinians, "part of Palestinian folklore," as Zaqtan quipped. Does an Israeli author suffer any delay in obtaining a visa to the US? Instead, our national literary psyche is immediately aware and sympathetic (as one should be) to the personal tragedy of David Grossman's loss of his soldier son in the war of 2006.

Textuality is ours; contextuality is theirs. When will we be able to think of Palestinian poetry beyond war, cold or hot? Even these words I write seem, paradoxically, to cement the notion that Palestinian literature is only about politics, catastrophe, and survival. When will we embrace Palestinian literature for its vision of exile, not as nostalgia but (as Judith Butler says of Darwish's poetry) as a signpost for the future, for the strangers we are, the stranger within and without us? When will we "memorize some poetry to halt the slaughter," as Darwish's "Red Indian" asked in his "Penultimate Speech to the White Man"? Palestinian poetry asks us several important questions that shake up the ultra-hygienic compartmentalization within the academy of poetry. During the carnage of Gaza in 2008, a major decorated American poet circulated a vehement response against those poets who supported the people of Gaza. Indignant that the Palestinian tragedy should rank high in the hierarchy of suffering, the poet accused others of anti-Semitism and explained how Palestinians brought it upon themselves.
Joudah goes on to discuss more of Ghassan Zaqtan's poetry, as well as George Oppen's poem "Semite," more Darwish, and Samuel Beckett. But read all of the pieces here.