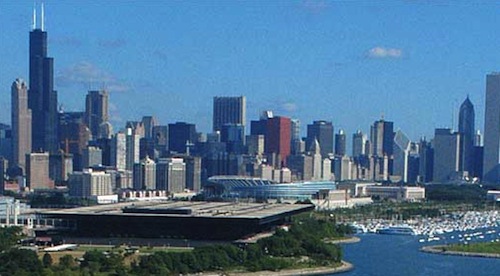 Edition #32 of the Ploughshares Literary Boroughs feature is up, and this time Larry Sawyer preaches the goods of Chicago.
A taste:
If you do decide to make the move to Chicago, you will find that on any given night there are multiple opportunities to see something truly remarkable—if you're up to the task of finding it. Often, events are free or event organizers might ask for a suggested donation. Generally speaking, many literati around Chicago harbor a genuinely welcoming attitude toward newcomers. If pressed to say, I believe it's this welcoming attitude and an acceptance of experimentalism that makes Chicago unique. Not to mention Chicago's lakefront and architecture, which are incomparable. (Also, what's not to love about Chicago's literary history? Wicker Park, for example, was home to outsider artist Henry Darger, who wrote the longest novel in existence, which provided the inspiration for John Ashbery's book-length poem titled Girls on the Run.)

Whether one attends a reading in an art gallery, loft, bookstore, bar, along the lake, or in a cramped living room, what also makes Chicago's literary scene unique, no matter how compartmentalized it may sometimes seem, is the fact that careerism hasn't yet completely sucked the heart from it. (Art school unconfidential: MFA programs now draw their fair share of writers to Chicago, but as tuition for some of these programs continues to increase, more reasonably priced alternatives have also emerged, such as The Chicago School of Poetics.)

 Sandwiched between American Apparel ads, a writer visiting eclectic Chicago will find a cavalcade of poets, young and old. In pounds per square inch, this city probably has more writers and aspiring writers than any other place in America. You won't be disappointed. (Nota bene: bring a jacket or umbrella.)
There's oh so much more here.