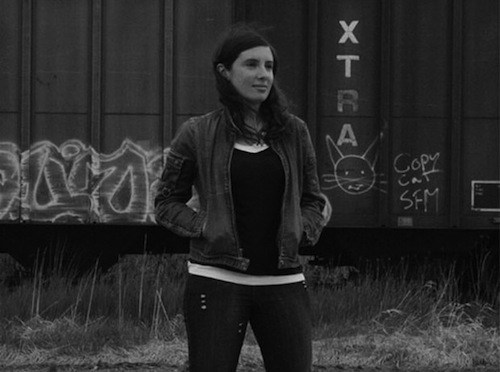 The folks over at Kill Your Darlings are thinking about chapbooks, and who better to talk to about the topic than Gina Myers. She's been kicking out the chapbook goods for years with Lame House Press. Matt DeBenedictis introduces their conversation by thinking about the hand-made quality of chapbooks:
The chapbooks that I've always loved have been hand crafted: alignments never the same, page cuts slightly moved with each book, but always a wonderful read for a bus ride. Not too long, not too short. If it's done well you can't forget a single page. Fingers with the moisture drawn out and paper cuts from heavy card stock are acts of worship.

For writers who have had their work published as novels or novellas a chapbook is the time to experiment. A voice unfitting for a longer form is given the chance to explore its own path. For authors who are still new what can be a better invitation to their work than a chapbook? It's a quick flirtation to remember their name for another encounter.

In the past year the hand-constructed chapbooks have become fewer in numbers. The majority of chapbooks to be seen after readings are put together mechanically, glued to their frame as miniature collections. There's no mystery to why there has been this shift; a chapbook release made by hand carries with it a debt that is hard to cover with a small print run.
When asked about Lame House's origins, Myers tells us:
I started Lame House Press in part because I realized I could. One of my best friends, Gabriella Torres, had a chapbook accepted by another press, but then the press ceased publishing before it ever got to her book. I was really bummed out about that because I thought it was a great series of poems. So then I decided I would just publish it myself, and Gabriella's Sister became the first LHP title. I was friends with a lot of young poets who hadn't published a whole lot yet, so I started soliciting chapbooks from my friends and from other young or emerging poets whose work I loved. It all sprung from a desire to share this great work I was privileged to see with a somewhat wider audience–I realize doing a print run in a range of 75-200 copies doesn't get the books into a lot of people's hands, but it gets it into a little more than before, hopefully.
And then the conversation turns to DeBenedictis concerns about the handcrafted aesthetic of chapbooks:
Lame House has maintained a handcrafted aesthetic, which is becoming rarer in terms of chapbook presses these days. What draws you to that type of packaging?

I've never studied book arts, but I've always been drawn to it. Some books that come out today are absolutely stunning–like anything from MC Hyland's amazing DoubleCross Press. I don't think LHP books are anywhere near the quality of those, but I enjoy the time and effort and imperfection of creating the books. I also like the freedom in design that handmaking a book allows. When I select a manuscript, I then have to consider what size paper and what kind of stitching would best fit the work inside. For example, if a poet uses long lines or has words scattered all over the page, then I'll create a wider book. But if the lines are short, I can make a smaller book. And consideration goes into the type of paper used too.
Surf over to read the rest.