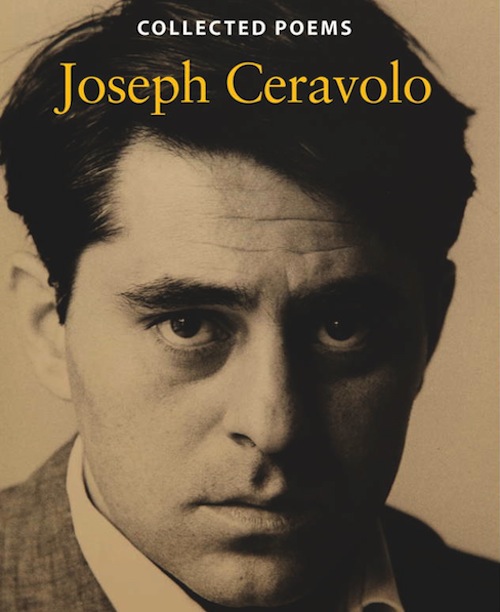 We don't usually announce new publications, unless we have been not-stifling our excitement for months. And it's here! We can rejoice! From Wesleyan University Press, the most handsome:
We are pleased to announce a new book, Collected Poems by Joseph Ceravolo -- edited by Rosemary Ceravolo and Parker Smathers.

The long-awaited collection of a singular American poet.

Like an underground river, the astonishing poems of Joseph Ceravolo have nurtured American poetry for fifty years, a presence deeply felt but largely invisible. The Collected Poems offers the first full portrait of Ceravolo's aesthetic trajectory, bringing to light the highly original voice that was operating at an increasing remove from the currents of the time. From a poetics associated with Frank O'Hara and John Ashbery to an ever more contemplative, deeply visionary poetics similar in sensibility to Zen and Dante, William Blake and St. John of the Cross, this collection shows how Ceravolo's poetry takes on a direct, quiet lyricism: intensely dedicated to the natural and spiritual life of the individual. As Ron Silliman notes, Ceravolo's later work reveals him to be "one of the most emotionally open, vulnerable and self-knowing poets of his generation." Many new pieces, including the masterful long poem "The Hellgate," are published here for the first time. This volume is a landmark edition for American poetry.
Here's the Table of Contents. Also available as an e-book. And a little press-release bird told us that if you order directly from the UPNE website and use discount code W301, you can save 30% on print editions.