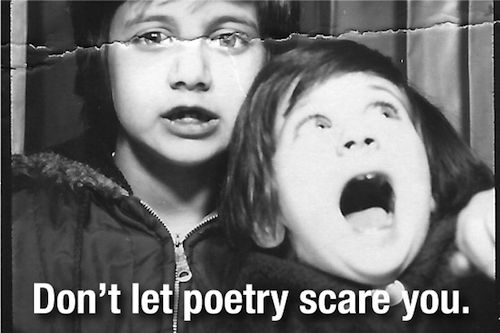 The Chicago School of Poetics is, as we speak, raising funds to help put a few needy poets through their 8-week workshop. And they're looking for your help! Before we get into the brass tacks of the scholarship drive, let's remind ourselves what the Chicago School of Poetics is:
The Chicago School of Poetics (CSoP) offers poetry writing classes (on location at the Chicago Cultural Center or online). We don't teach creativity. Here poets can refine their craft via close readings and in-class discussion of selected poems and of one another's work—with an emphasis on approaching and evaluating each work on its own terms. CSoP classes blend lecture, critical reading, writing, and group critique. Poets are free to generate new work and share poetry in a supportive environment—without the MFA time committment or exorbitant price tag.

CSoP unique offerings include Pulse Poem Pulse, Dream Journaling, Queer Poetics, Documentary Poetics, Hybrid Texts, Risk: Writing at the Edge, The Poetry of Cubism, Erasure to Automatism, Personal Archaeology, Working Poets, and Publishing.
Now for those promised tacks:
Your donation to CSoP will:

* Directly enable up to 5 financially challenged students to attend an 8-week CSoP course (on location or online) OR up to 10 students to be a part of a master class.

* Support innovative poetry education. CSoP creates a "community beyond" via lectures, critical readings, and instructor-led peer sessions. Classes are challenging yet supportive, and truly help develop poetry writing craft. CSoP offers an alternative to, and a community beyond, the increasingly expensive creative writing MFA.

Scholarships are need-based and will go fully to students to pay for sessions.
Go and check it out! And read more about this unique school.