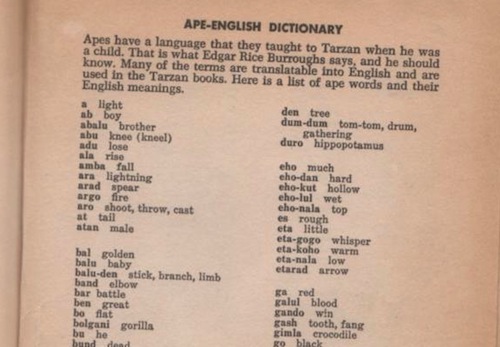 We've long been impressed with Canadian writer Erin Mouré. Not only does she write poems, she translates from multiple languages, including French, Galician, Portuguese, Spanish and probably several others. Her approach to translation is exuberant and playful. And now we know why: the "Tarzan Method of language learning."
In a post for Jacket2, Mouré describes how her childhood Whitman Classics edition of Edgar Rice Burroughs' Tarzan of the Apes inspired her interest in translation:
It was, perhaps, my 11th year, and as a Christmas or birthday gift, I received a copy of the book, a copy I had to share with my brothers. It was the rule of books. At the back of the novel was something I'd never seen before, and it intrigued me: a bilingual dictionary. Ape-English, three pages long. I tried to use it to write poems in Ape but the words were limited, rather violent, and there were no connectives. As well, I had to read all three pages of English words before finding one I could use, as the dictionary went in one direction only.
Mouré goes on to highlight an element of the Tarzan story that we'd forgotten. Tarzan teaches himself to read English by looking at children's books found in the ruins of his parent's home.
This reality stuck with me, and when years later I wanted to learn Galician, I did it at first on my own, buying workbooks forchildren and reading them over and working through them until I began to understand. And working through the same workbook over and over, understanding a bit more each time. I call it the Tarzan Method of language learning.
You can read the full post at Jacket2.