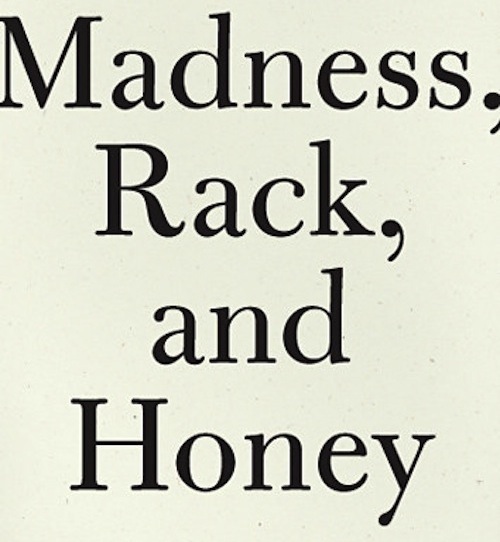 In case you missed it, the New York Times posted an enthusiastic review of Mary Ruefle's recently(ish) published collection of essays, Madness, Rack, and Honey. David Kirby begins his review, writing, "This is one of the wisest books I've read in years, and it would be a shame to think that only poets will read it." Kirby then gives us a little background on the book:
Yes, poetry is the nominal topic. For 15 years Ruefle, a much published poet, gave a lecture every six months to a group of graduate students, and those lectures are collected here. But Ruefle's mission is not to — yawn — remind everybody how precious poetry is; rather, it's to give pleasure by showing how the mind works when it's working most pleasurably.

In this she succeeds. Typically, she begins a thought with a quotation from a sage ("Gaston Bachelard says the single most succinct and astonishing thing: We begin in admiration and we end by organizing our disappointment"), then develops the thought to give it her own spin (concluding, in the case of Bachelard, that we can at least dignify our dashed hopes "by admiring not the thing itself but how we can organize it, think about it"). Now this sounds like poetry to me, but it also sounds like my thoughts on the last overpriced restaurant meal I ate, as well as the American political system. And that's the point: we begin in one place, then we're all over the map, but we've been up a time or two before, so now we're bringing that thought in for a nice soft landing.
Then adds this keen observation:
In many ways, "Madness, Rack, and Honey" reads like a steroid-boosted version of a commonplace book, those thinking persons' scrapbooks that became popular in early modern Europe and contained quotations from the classics, scraps of conversation, poem fragments, recipes, proverbs and lists of every sort. With all of Ruefle's borrowings and rephrasings, it's difficult sometimes to tell exactly who's talking, which may be the idea. One authority burrows into another, as when the painter Cy Twombly is cited as quoting the poet John Crowe Ransom's assertion that "the image cannot be dispossessed of a primordial freshness which ideas can never claim." I believe the rappers call this "sampling."
Surf over to read all the praise.