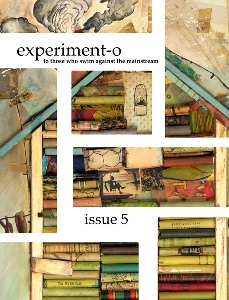 Experiment-O, an annual online PDF magazine from Angel House Press, "celebrates the art of risk through poetry, prose, visual art & visual poetry." The most recent issue features work from Rosaire Appel, Kemeny Babineau, bill dimichele, Judy Dougherty, j/j hastain, Shawna Lemay, gustave morin, Michèle Provost, Janice Tokar and Nico Vassilakis.
How did Angel House Press get its name? The answer is on their website:
The Angel In The House is a Victorian concept and poem about a very weak and mindless woman whose sole responsibility was to be charming. Perhaps you can see the irony.
We do.
Experimento-O is full of intriguing work, but we're especially taken with Judy Dougherty's dollhouse book sculptures on page thirteen. You can peruse the entire PDF, as well as back issues, on the Experiment-O website.