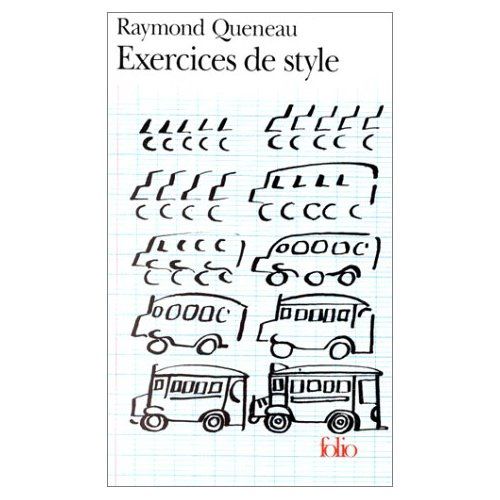 We fondly remember having to read poet and novelist Raymond Queneau's Exercices de Style (Exercises in Style) in high school French class. Even though we knew nothing about Oulipo at the time, we quickly learned the words for cou (neck), chapeau (hat) and pardessus (jacket). We're not the only ones with a fondness for this book. Chris Clarke in the Rumpus writes:
Exercises in Style has been one of the most beloved books in the New Directions catalog since they first published it in 1981. No other book on the ND list is quite like it. Is it a novel? A guide book? Whatever it is, it's certainly conceptual. The author, Raymond Queneau, was a famous French writer and mathematician who founded Oulipo, a renowned group of literary experimentalists that included Italo Calvino, Georges Perec, and Harry Mathews. Exercises in Style is a classic example of an Oulipo text. Queneau created a simple story — a narrator witnesses a small altercation between two men on a bus, and later sees one of the men getting a button mended on his jacket — and from that small narrative proceeded to do the extraordinary: rewrite the story in ninety-nine different ways.
The 65th anniversary edition from New Directions contains twenty-eight previously untranslated exercises as well as homage exercises from contemporary writers. While you're waiting for your new edition to arrive, head over to The Rumpus, which has posted a few teasers from these new additions to Exercises in Style.  You'll find Jonathan Lethem's "Cyberpunk" exercise as well as the debut translation of Queneau's "How the Game is Played."