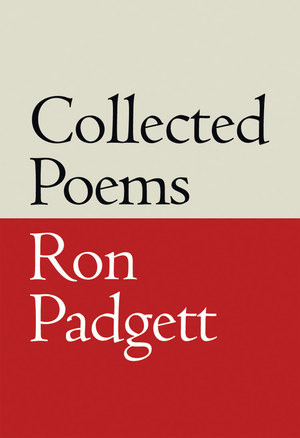 It's thrilling enough that in 2013 Coffee House Press will publish all glorious 800 pages of The Collected Poems of Ron Padgett, but were doubly pleased that Craig Morgan Teicher of NPR shares our excitement. In his 2013 Poetry Preview, Teicher lists Ron Padgett's forthcoming Collected as one eight new poetry books we won't want to miss.
Teicher rightly situates Padgett as an influential second-generation New York school poet:
His poems are conversational, extremely accessible, willfully casual and consistently funny, but also laced with a lightly worn sadness, a symptom of everyday heartache. At stake are nothing less than life, death, love, community and friendship, all of which unfold against the backdrop of a normal, if culturally attuned, urban existence. This volume brings together poems from all of Padgett's previous books, which were published over the last several decades by many different presses...No one accepts life's hard truths with a friendlier face.
Among the other titles to make Teicher's list of forthcoming can't-miss poetry books are Lit From Inside: 40 Years Of Poetry From Alice James Books, edited by Anne Marie Macari, Carey Salerno and Maxine Kumin; Kwame Dawes's Duppy Conqueror: New And Selected Poems; and Steven Burt's Belmont: Poems.